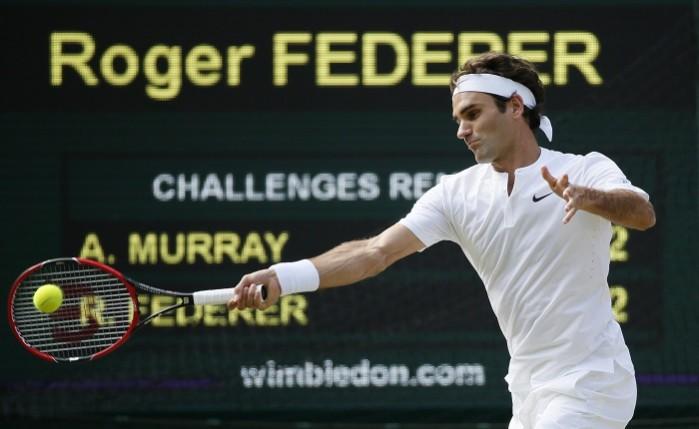 Andy Murray did nothing wrong, absolutely nothing; on any other day, the Brit would have eased into the Wimbledon final. Friday, 10 July 2015, though, belonged to Roger Federer, who played like that Roger Federer from another planet, where all they do is hit yellow balls for winners with a racquet all day with ridiculous ease.
Federer was in a level that was almost unbelievable at Centre Court on Friday, and it is great credit to Murray that he won as many games as he did against the irresistible Swiss. But, when that forehand is working like a dream, and that backhand is flowing like no other, with a serve that renders the return non-existent, there is nothing anybody could do.
On Friday, 10 July 2015 no tennis player on earth would have been able to match Roger Federer, who was at his mesmerising best in a 7-5, 7-5, 6-4 win over a gallant Murray.
"It's been tough, Andy's been playing well this season, there was so much of expectation from this match, and it got really tough with every game," said Federer, trying to play down the level of tennis he just produced. "I think I played so well on the biggest of occasion today, that is why I won.
"I think my serve won the match. I think I have been serving very well the entire tournament, and I served well again, maybe against one of the best returners in the game."
When Federer plays like this, you realise why tennis is such a popular sport; why sport was invented; why people pay thousands of pounds/dollars to come and watch two players hit yellow balls back and forth with a racquet.
When Federer plays like this, not even his harshest of critics, or a Rafael Nadal fan, or a Novak Djokovic fan, or an Andy Murray fan, or a Pete Sampras fan (you know where I am going with this) can argue this man is not the greatest tennis player to have played the sport.
On Friday, 10 July 2015, Federer made tennis look like a spectacle worth walking a thousand miles just to watch for a few minutes.
Murray was pretty good in this match – he had 35 winners in all. However, that paled in comparison to Federer's 56 winners, with just 11 unforced errors flowing from that racquet of his, which is surely, surely a magic wand made from the wands of Harry Potter and Albus Dumbledore; surely.
The first set was about Federer serving ridiculously well, with Murray doing pretty good to stay with the great man. Then came the 12th game, with Murray serving to take the set into the tie-breaker.
Federer stepped up into that exalted level, and took the opening set.
The second set was another highlight reel, with the 17-time Grand Slam champion, if anything, getting better as Murray, again, did extremely well to keep the match competitive.
Then came the game of the tournament so far, in the tenth of the second set, with Murray saving five set points in all, and somehow, from 0-40 down, with some outrageous shots – it need hardly be said Federer had plenty of those as well – holding his serve to level the set at 5-5.
However, again, after an easy-enough hold, Federer cranked up the pressure and with an outstandingly-played point on set point took the second set as well.
It was déjà vu now with every set that passed by, with Federer again serving first to keep the pressure piled on Murray. If it were any other player in the game, barring maybe Djokovic and an in-form Rafael Nadal, this match would have ended 6-0, 6-1, 6-2 to Federer.
Murray, though, to his great credit, kept fighting, even if he knew this was always going to be a losing battle; because there is no beating Federer when he is in this mood.
Again, the decisive break came for Federer, this time a little earlier than the other two, and the legend moved into his tenth Wimbledon final, where he will face Djokovic.
If Federer plays anything like he did today against Murray, even Djokovic, with his impenetrable defence, will be able to do little.
That eighth title for the great man beckons.