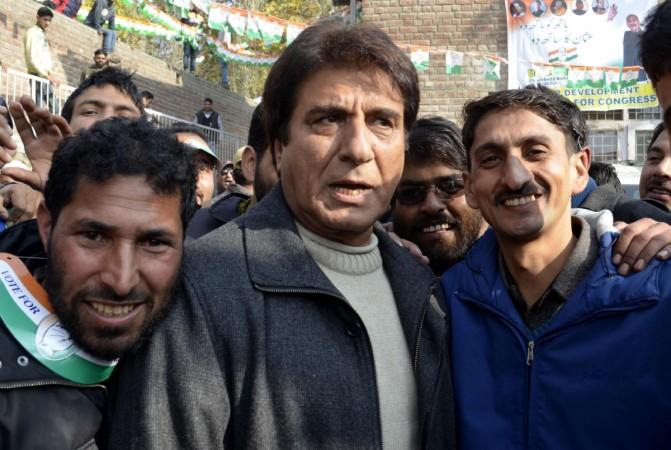 Union Minister Giriraj Singh's remarks on Congress president Sonia Gandhi's skin colour are still drawing criticism from various flanks. It was Rajya Sabha MP Raj Babbar's turn to take a dig at the Bihar BJP leader on Thursday.
Mr Babbar said that the BJP leader should be in a mental asylum receiving treatment, and that he was willing to bear the expenses for it, reports Zee News.
"Goddess Kali and Goddess Durga are worshipped; the BJP should think if it wants such leaders," added Babbar.
Earlier Mr Singh stirred up a hornet's nest on Tuesday by saying that Congress only accepted Sonia Gandhi as their president because of her fair skin.
"If Rajiv Gandhi had married a Nigerian lady and not fair-skinned woman then would the Congress have accepted her leadership?" asked Mr Singh, who is currently serving as minister of state in Prime Minister Narendra Modi's government. He however apologised later, saying that he regrets what he said if it hurt Sonia or Rahul Gandhi in any way.
Criticism came pouring in from all corners after the BJP leader's remarks.
Congress spokesperson Ajoy Kumar called it irrational and offensive and said that Mr Singh should apologise to the entire country. He also said that it was a deliberate pattern because BJP never took action against anybody indulging in such acts.
Randeep Surjewala, also a Congress member, said that Mr Singh was bordering on insanity.
CPI-M leader Brinda Karat called the comments shameful and condemnable. Ms Karat also said that she would like to know what Modi's 'Mann ki Baat' would be on this?
BJP leader and former IPS officer Kiran Bedi meanwhile said that Mr Singh's comments were a cause for concern and questioned her party colleague's wisdom.