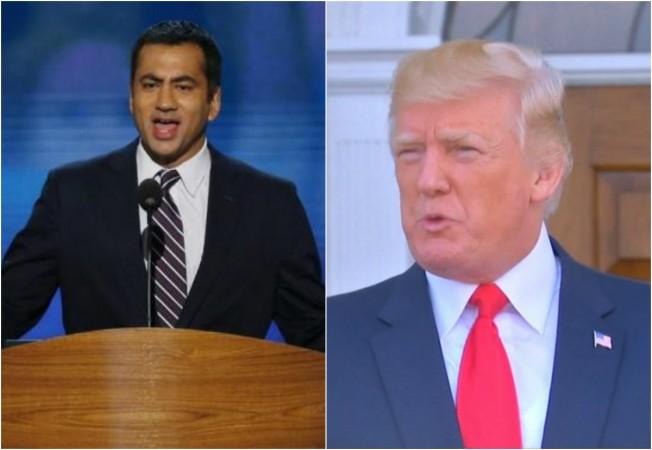 United States President Donald Trump on Friday tweeted that military solutions were "fully in place, locked and loaded, should North Korea act unwisely."
However, the tweet did not seem to have gone down well with several Twitter users, including actor Kal Penn, who quoted the tweet asking if Trump's Twitter account could be suspended for "threatening violence" against North Korea?
Penn has previously worked with former US President Barack Obama.
Several Twitter users have over the last 24 hours reported Trump's tweet, which threatened violence against North Korea. Critics have said that the tweet from Trump's personal handle — @realDonaldTrump — is a threat of violence and is, therefore, a violation of the social networking site's terms of service.
However, there were also some who seemed convinced that Trump's tweet was not a threat of violence.
Military solutions are now fully in place,locked and loaded,should North Korea act unwisely. Hopefully Kim Jong Un will find another path!

— Donald J. Trump (@realDonaldTrump) August 11, 2017
This is what Penn tweeted:
Hey @Twitter, is threatening nuclear war not a violation of terms of service? https://t.co/Gwz2EZHKnu — Kal Penn (@kalpenn) August 11, 2017
Seems pretty clear that you can't threaten mass murder via nuclear war, right @twitter? Asking for 7.4 billion friends. pic.twitter.com/333QtnECc4

— Kal Penn (@kalpenn) August 11, 2017
Several users slammed Trump's tweet:
Threatening nuclear war on Twitter feels like a terms of service violation — Pablo S. Torre (@PabloTorre) August 11, 2017
I assume that you don't even have a clue what you are talking about. I just Hope Mattis and Kelly have you under control...

— Impeach Donald Trump (@Impeach_D_Trump) August 11, 2017
I think he's just laying the groundwork to attempt an insanity plea. I hope and pray that @FBI won't let the criminal POTUS get away with it — Kimberly Lazarski (@kimzr1) August 11, 2017
This isn't funny anymore. He is clearly mentally ill and in dire need of assistance. @flotus or someone inside the WH needs to stand up.

— Thomas (@Thomas_Duncan) August 11, 2017
I've had enough of the bullying Choosing to #BlockTrump pic.twitter.com/hRox7kIc3Y — Mrs. Faith Tyler (@personalitty) August 12, 2017
Twitter would be a hero to the world if it suspended Trump's account.

— Ryan Prosser (@ProsserRy) August 11, 2017
Twitter is an accessory to nuclear war. — Darnell De Palma (@darnelldepalma1) August 12, 2017
A man is threatening the fate of humanity bc he's mad, but pls tell me more about how women are too emotionally volatile to handle our shit.

— Twitnter is Coming (@OhNoSheTwitnt) August 11, 2017
I reported this tweet for attempting to instigate a thermonuclear war. https://t.co/fT1DHCk5rr — Tom Wellborn (@TomWellborn) August 11, 2017
Cmon Twitter. It's time.... pic.twitter.com/dxN0YTHV4J

— Pete Souza (@PeteSouza) August 11, 2017
pic.twitter.com/Q5zhzXUqbF — Stuart (@autoblography) August 11, 2017
Projected onto #Twitter HQ in San Francisco. pic.twitter.com/UAw05vfjwk

— ÆMarling (@AEMarling) August 12, 2017
Trump's tweets have made headlines several times in the past with many calling for the suspension and banning of his Twitter handle.
"We do not comment on individual accounts, for privacy and security reasons," Mashable quoted a Twitter spokesperson as saying.