The growth of Chinese smartphones in India is palpable, and if the trend continues it won't be long before the local vendors are wiped out of the competition. The second quarter 2017 smartphone shipment report by International Data Corporation's (IDC) has clearly indicated the growing dominance of Chinese vendors in Indian market.
According to IDC's Quarterly Mobile Phone Tracker reports, 28 million smartphones were shipped to India in Q2 2017, which is a 3.7 percent Quarter-on-quarter (QoQ) growth and a 1.6 percent Year-on-year (YoY) growth.
Also read: Chinese brands Xiaomi, vivo, OPPO, Lenovo rule the roost in India
Chinese vendors, including Xiaomi, vivo, OPPO and Lenovo have cemented its position in Indian smartphone market with 54 percent market share, registering 9 percent QoQ growth in the Q2 2017. Performance of Indian vendors improved marginally after consecutive decline for three quarters, registering an 18 percent QoQ growth in Q2 2017 and holding 15 percent of overall smartphone market.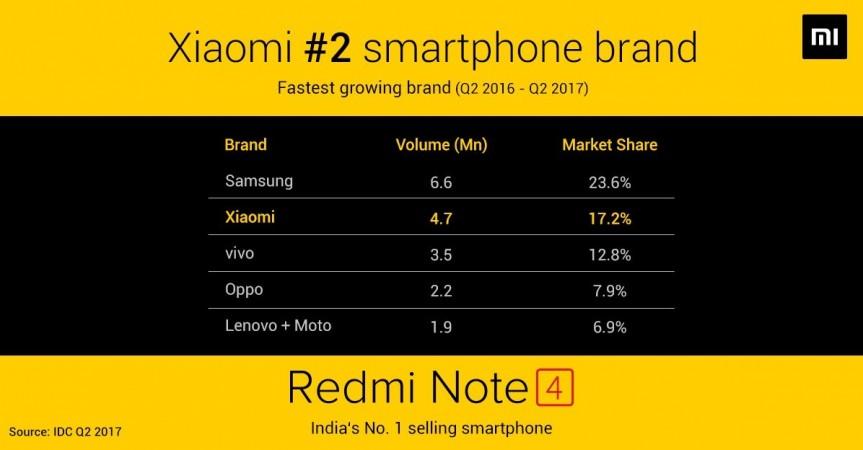 "Indian vendors have shown an early sign of recovery and now when most of them are ready with their 4G product portfolio, a new set of China-based competitors have entered in the sub-US$150 segment" said Upasana Joshi, Senior Analyst, IDC India.
"Indian vendors are putting all their efforts and second half of year will be crucial, either it will see a revival of Indian vendors or emergence of new dominance in the sub-$150 segment from China based vendors."
Samsung still holds the highest market share in India in Q2 2017 with 24 percent (4 percent from the same period of last year) but Chinese vendors are slowly catching up. Xiaomi stood in the second position with a market share of 17 percent, which is a 25 percent QoQ growth. Over 2 million of its Redmi Note 4 units were shipped to India in Q2 2017.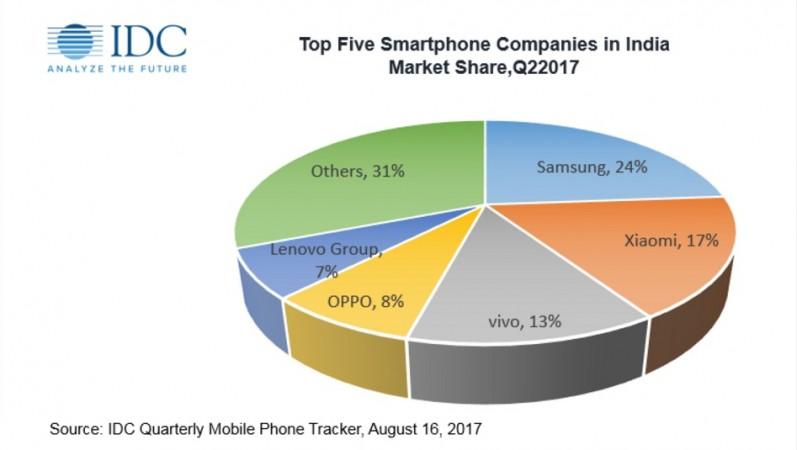 Vivo registered 13 percent smartphone market share in India, marking a 26 percent QoQ growth, while OPPO is in the fourth position with an 8 percent market share (13 percent decline QoQ), and Lenovo (including Motorola) slipped to fifth place with a 7 percent market share after witnessing 25 percent QoQ decline.