Karnataka minister Priyank Kharge on Wednesday said that his government would ban outfits like Bajrang Dal and RSS if peace of the state is disturbed and that if the BJP leadership finds it unacceptable, they can go to Pakistan.
"We have promised to turn Karnataka into a paradise. If peace is disturbed we won't even consider if it is Bajrang Dal or RSS. Whenever law is taken into the hands, a ban will be imposed. As per the promise given in the manifesto, we will ban any organisation, including Bajrang Dal and RSS," Kharge maintained.
While interacting with reporters in Bengaluru, Kharge further stated, "If the BJP finds it difficult, let them go to Pakistan,".
He further stated that the government would withdraw the ban on hijab, halal cut and cow slaughter laws. "Some elements are roaming freely without fear of law and police in society. The trend has been happening for three years," he underlined.
BJP should understand why people made them sit in the opposition. "We have stated that saffronisation is wrong. Congress follows the principles of Basavanna which could be followed by all," he stated.
Priyank Kharge is the son of AICC President Mallikarjun Kharge. He had stirred a big controversy by calling PM Modi a 'nalayak' during the election campaign.
Saffronisation of police force: DKS
Earlier, in an apparant dig at former CM Basavaraj Bommai's statements supporting saffronisation of police force and moral policing, Karnataka Deputy Chief Minister D.K. Shivakumar on Wednesday asserted that his government will not allow anyone to take law into their hands.
While interacting with reporters at Vidhana Soudha in Bengaluru, Shivakumar said, "The former Chief Minister had stated why not saffronisation? Why not moral policing? But we will not allow anyone to take law into their hands."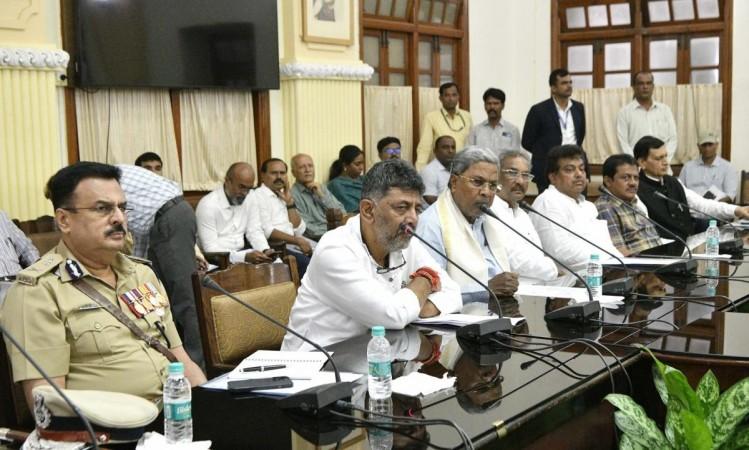 "Be it a Congressman or any other political party worker, no one should take law into their hands. The law should be protected by police. What I mentioned yesterday (in the meeting of police officers) was, at three or four places, the entire staff of the police department had worn clothes representing political agenda instead of uniform and posed for photographs. This is not what the Constitution says and this is not according to the law. Police department has a big image in Karnataka," Shivakumar explained.
He, however, refused to comment on a statement by former Home Minister Araga Janendra that he has started dominating over the police officers. "People have given Araga Janendra and his government a befitting answer in the elections. I don't have time to reply to his statements," he said.
The Deputy Chief Minister recalled that cabinet minister Priyaka Kharge, who holds a big position in the party, was summoned when he raised the issue of corruption. "How many people are summoned? Why not others? Was he targetted because he is a Dalit? Congress MLA? The police have to work as per law, country comes first," Shivakumar stated.
Shivakumar, on Tuesday, rapped Karnataka police officials and questioned them that they are trying to saffronize the state police department. "Are you all set to saffronise the police department? We will not allow it under our government," he asserted.
"We know how police officers came to the police station wearing saffron shawls in Mangaluru, Bijapur (Vijayapura), Bagalkot and insulted the department," he said. "You should have come to this meeting wearing a saffron shawl," Shivakumar taunted the police officers.
If it was to be patriotism, then they should have come to work wearing the nation flag. "We will not allow saffronisation of the police department," Shivakumar reiterated.
Imagine the level the police department had stooped to if an ADGP ranked officer indulged in fabricating OMR sheets in the PSI recruitment scandal? Shivakumar questioned.
(With inputs from IANS)