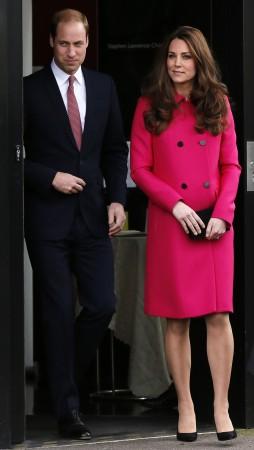 The wait for the second Royal baby seems to be never-ending. The latest reports suggest that pregnant Kate Middleton's due date has been pushed by a week, and the Duchess of Cambridge may not go in to labour until as late as 5 May.
The royal mother-to-be grabbed a lot of attention when she was photographed leaving after a swimming session with 21-month-old son George, and she was also spotted driving her Range Rover into the Queen's London residence all by herself. Middleton continuing to go about her daily routine at this stage during her pregnancy, clearly suggests that the royal baby is nowhere close to making an appearance.
The Duchess' original due date was 25 April, but now the Duke and Duchess of Cambridge have signalled that the wait for their second child could go on for another week. Apparently, Middleton was rumoured to be planning an induction with the doctors at St Mary's to kick-start her labour, but it looks like the doctors have opted not to medically induce the Duchess and will continue to wait.
"The fact that Middleton hasn't been induced by doctors and gone into labour simply means that her original due date was most likely incorrect and she is nowhere near dilated enough to give birth," Celebritydirtylaundry.com reported.
Amidst all this speculation and wait for the new fourth in line to the throne, Prince William and Middleton celebrated their fourth wedding anniversary on Wednesday. The couple, who married at Westminster Abbey on 29 April, 2011, spent the day at Kensington Palace waiting for any sign that the Duchess is about to go into labour. But our lady looked entirely relaxed.
Meanwhile, St. Mary's Hospital in Paddington, where the duchess is expected to give birth to the royal baby, has been busy making preparations. Parking restrictions outside the hospital's Lindo Wing were extended on Wednesday. The restrictions, which began on 5 April and were due to end on Thursday, will now run through 5 May.