Ever since the country's top grapplers, including Vinesh Phogat, Sakshi Malik and Bajrang Punia, among others, sat on a protest against the 'misconduct' of wrestling body chief Brij Bhushan Sharan Singh, they are getting ample support from all corners, with the Indian Olympic Association (IOA) forming a seven-member committee to probe the allegations.
Indian wrestlers called off their protest late on Friday evening after a second meeting at the Union Sports Minister Anurag Thakur's residence in the national capital on Friday evening.
The protesting grapplers demanded removal of the Wrestling Federation of India (WFI) chief, dissolution of the wrestling body and formation of a new committee to run its affairs. Understandably, these players, who have won laurels for the country, are getting support for their courage.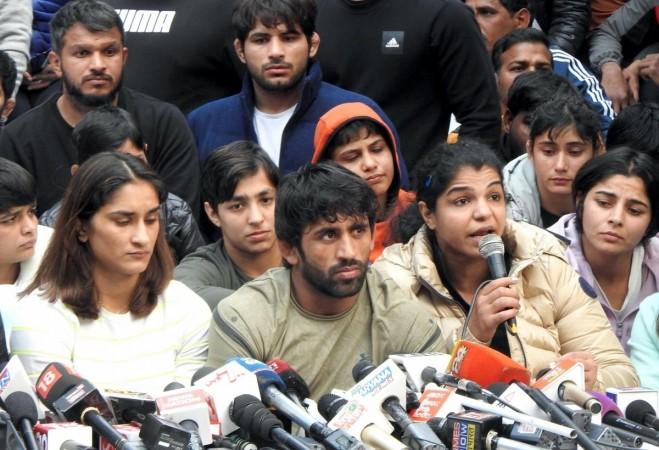 However, the sudden protest by the wrestlers has raised a few questions as well. The main question is who is actually behind these grapplers? Who's guiding them?
Bajrang, Sakshi and Vinesh have repeatedly clarified that they are at the Jantar Mantar due to the problems faced by the wrestlers, and not because of anyone's directions.
However, if sources are to be believed, there might be more layers to the whole controversy. A senior wrestling coach, on condition of anonymity, told IANS, "This looks more like a political controversy to me. Someone big is behind this I guess."
Yoga Guru behind the scene?
Few netizens feel a 'Yoga Guru' is behind the entire episode.
Notably, Brij Bhushan is not new to controversies and is known to be outspoken. He has been embroiled in multiple controversies before. The current protest against him might have something related to his previous controversies.
In November/December last year, Brij Bhushan had taken a dig at yoga guru Ramdev and his Patanjali brand of products.
He had reportedly said that "Ramdev's products are unhealthy and I ask the UP and Uttarakhand government to take a look into this".
As per reports, Ramdev later sent a notice to Brij Bhushan seeking an apology, but the BJP MP didn't extend any.

Amid the protest by the wrestlers, the WFI President had said on Wednesday, "There is an industrialist who is instigating the wrestlers against me."
Also, just before the Rio Olympics in 2016, there was an infamous tussle between two-time Olympic medallist Sushil Kumar and budding wrestler Narsingh Yadav.
At that time, Ramdev had supported Sushil. Now, Narsingh has tweeted in Brij Bhushan's favour, adding more air to fire. On Friday morning, Brij Bhushan had said that he will expose some big names at a press conference in the evening. But later he called off the presser.
So, it will be interesting to see what comes next. Brij Bhushan has grappled with many controversies before. Will he be able to come out clean in this one?