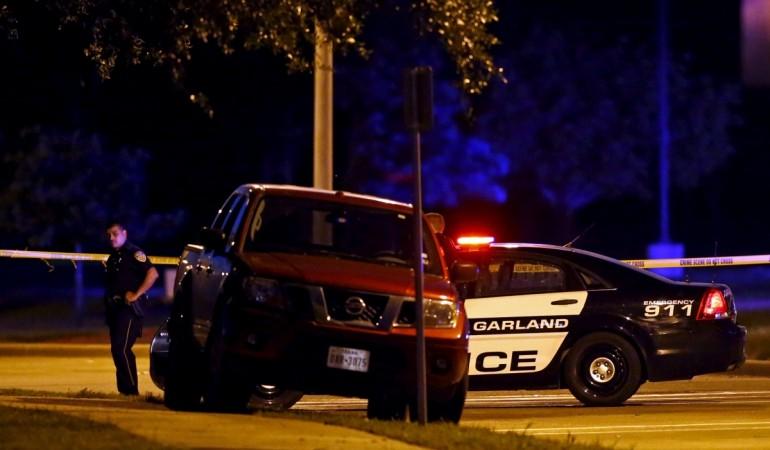 The two gunmen who were shot dead as they opened fire at the venue for "Draw the Prophet" contest in Texas on Sunday have been identified as Elton Simpson and Nadir Soofi, with the former believed to have pledged allegiance to the Islamic State via Twitter.
Simpson, 30, had put out a tweet before the attack, pledging allegiance to "Amirul Mu'mineen", a reference to Isis leader Abu bakr al-Baghdadi.
He also announced his martyrdom, saying, "May Allah accept us as the mujahideen," through a Twitter account named 'Shariah is Light', which bore a photo of militant Anwar Awlaki, who had been killed in a UN drone strike in Yemen in 2011.
The FBI on Monday raided Simpson's Phoenix residence which he used to share with Soofi.
The two were shot down outside the Muhammad Art Exhibit event at the Curtis Culwell Center in Garland, Texas, where the American Freedom Defense Initiative (AFDI) had organised a contest to draw cartoons of Prophet Muhammad.
Security at the venue was beefed up by organisers and the police responded swiftly to avert a Charlie Hebdo-like repeat, wherein two gunmen had stormed the Paris office of the satirical magazine in January and killed staff members.
Simpson was known to the police for several years as he was arrested in 2011 for making a false statement about international and domestic terrorism.
He was convicted of lying about his plans to travel to Somalia to engage in "violent jihad", according to reports, and was sentenced to three years in probation and ordered to pay $600 in fines.
Simpson had been under police watch from 2006.
According to reports, the FBI and the police had been monitoring Simpson's online posts about Isis since several months.
The Isis link to the Texas attack came through other Isis-affiliated Twitter accounts as well.
A British Isis fighter tweeted, "2 of our brothers just opened fire at the Prophet Muhammad (s.a.w.) art exhibition in texas" and "They Thought They Was Safe In Texas From The Soldiers of The Islamic State."
Soofi, 34, did not have a criminal record and was not known to the police before the attack.