Former Bihar chief minister Lalu Prasad Yadav's son Tej Pratap Yadav is likely to get engaged to Aishwarya Rai. Despite the name sounding extremely familiar, the name Aishwarya has no connection to the Bollywood actress. Tej Pratap is reportedly set to tie the knot with Rashtriya Janata Party lawmaker Chandrika Rai's daughter.
Although the Yadav family have not confirmed the dates, but media is abuzz with the engagement rumors. "Yes, it's true that Tej Pratap and Aishwarya's marriage has been finalised but I cannot confirm the dates," a close aide of the Yadav household told Times of India, Thursday, under the condition of anonymity.
According to various reports, the dates for Tej Pratap and Aishwarya's engagement are likely to be scheduled April 18 while the marriage is said to take place May 12.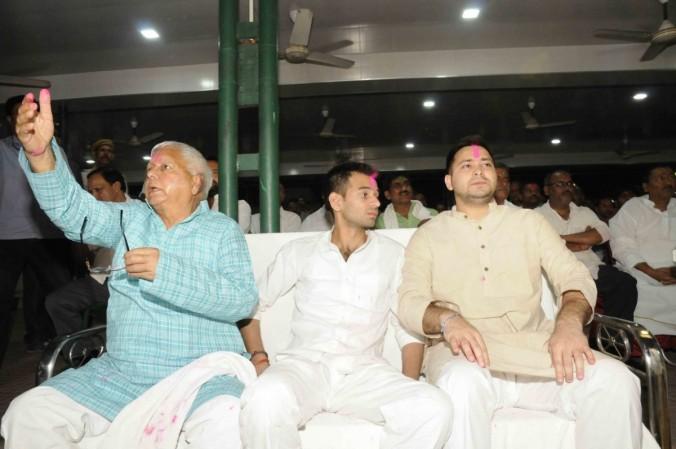 When Tej Pratap's mother and former Bihar CM Rabri Devi had reportedly said that she looking for a bride for her son, little did she know that she would find her future daughter-in-law in Aishwarya.
On the occasion of Lalu's 70th birthday, Rabri Devi candidly spoke to media about her search for a bride: "I don't want any cinema and mall-going girl. I want a daughter-in-law who is a homemaker and respects elders. I want someone who can take responsibilities outside the home just like me. I am looking for daughters-in-law for both of my sons with qualities like me."
As her comments were on the verge of stirring a controversy, Yadav quickly took to Twitter to back Rabri's idea of the perfect bride, NDTV reported.
"Sanskari bahu doesn't mean veiled, home bound, dependent lady. It means strong willed, loving, caring lady, whthr (whether) working women or housewife (sic)."
Who is Aishwarya Rai?
Aishwarya, who hails from Chhapra, did her schooling in Notre Dame Academy in Patna following which she moved to Delhi, India Today reported.
The soon-to-be bride is a history graduate from the prestigious Miranda House College in Delhi and has an MBA degree from Amity University.
She has two siblings – a sister and a brother. Aishwarya is the eldest among them.
The 25-year-old is the daughter of Rashtriya Janata Party leader Chandrika Rai.
Her father was the former transport minister in Nitish Kumar's government between the years 2015 and 2017.