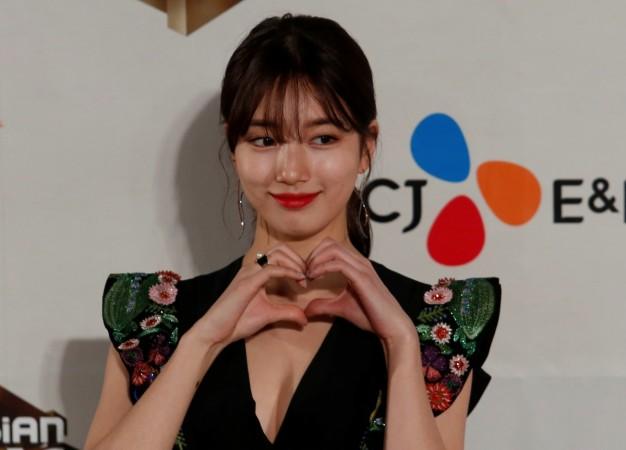 Suzy Bae, the South Korean singer and actress who is popularly known for her role as news reporter Nam Hong Joo in SBS drama While You Were Sleeping, has responded to all the criticisms she received about her acting skills.
The former lover of Lee Min Ho said that it was not easy for her to portray the real emotions of the characters onscreen mainly because she had to overdo things for that.
"I don't like going over the top. With that in mind, I heard that my acting style was flat or bland when I started out acting. It's hard to do that kind of acting. When I'm sad or happy, I react a certain way, but [as an actor] I need to overdo it in order to show people my character's emotions," the Uncontrollably Fond star said in an interview with InStyle magazine.
Also read Asia Artist Awards 2017 complete winners list: While You Were Sleeping star Suzy Bae, EXO and others
Meanwhile, Girls' Day member Hyeri revealed that Suzy helped her in portraying the role of a news reporter in MBC drama Two Cops. "When I first got the script for the role of a local news reporter, I discussed it with Suzy. It was before ['While You Were Sleeping'] aired, and Suzy told me she was playing a reporter, too. When I asked her about it, she said it was really fun preparing for the role," Soompi quoted the actress.
"I got a lot of help from Suzy. She did really well [with her role], so I'm a bit worried that people will compare us. I got more motivated when I saw how cool she looked [in her drama], so I met up with real reporters while preparing for my role," Hyeri added.
The Miss A member also received praises from her While You Were Sleeping co-star Jung Hae In. He described her as a "beautiful" person, who is "extremely nice" to everyone.
"She's really pretty. She's beautiful inside and out. She's extremely nice, and I felt really comfortable filming with her. She's kind and considerate. My character had a crush on hers, and she made it easier for me to act. She's definitely a mood maker," the actor said in a recent interview.