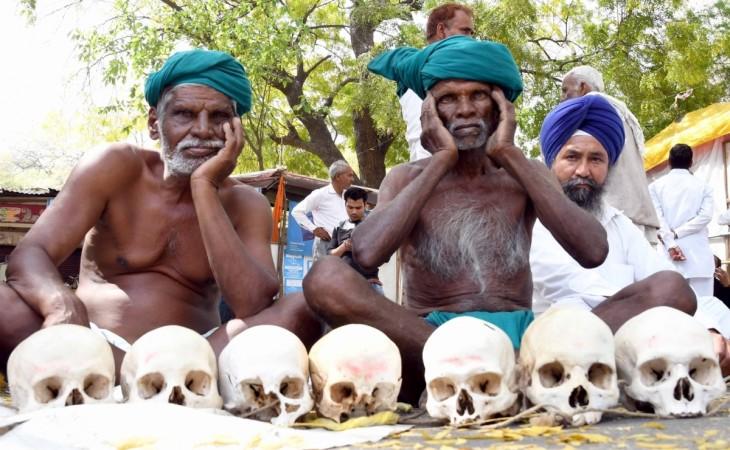 Several farmers from Tamil Nadu have been protesting at Jantar Mantar in New Delhi for almost three weeks now demanding their loans be waived and a drought-relief package be provided. They have also demanded fair and just prices for their produce. They are determined to make their voices heard by the government even if it involves protesting using bizarre methods. Farmers' suffering is a common problem in several parts of India with not much solution being visible.
Also read: More than 2,000 farmer suicides in 2 years in Marathwada
The farmers had a meeting with Union Finance Minister Arun Jaitley three times and presented before him their demands. They also met President Pranab Mukherjee on the issue. However, the central government has not responded to their demands yet. Congress Vice-President Rahul Gandhi and Delhi Chief Minister Arvind Kejriwal were also supposed to meet the farmers on Thursday (March 30) though it was not confirmed whether the meetings happened.
South Indian actors Vishal Krishna and Prakash Raj also joined the protest by the drought-affected farmers at Jantar Mantar.
The protesting farmers arrived in Delhi on March 13 and have also been protesting against the compensation of Rs 3,000 that the state government provides them with. Several protesters were also rushed to the hospital due to deteriorating health conditions.
Skulls of "dead farmers"
The farmers protested using skulls of deceased fellow farmers on Tuesday (March 30) morning. They said that over 400 farmers committed suicide in the last six months and that the skulls being carried by the protesters were apparently dug out from their graves.
"The state has given us Rs 3,000 each. How is that enough to make up for the losses we have faced? We have mortgaged all our jewellery. We have nothing but our lives left... We have come with these bowls to indicate that we have been reduced to begging and have taken off our shirts to show we have nothing left. These are the skulls of farmers who have committed suicides in Tamil Nadu. This is to show the Modi government that the Centre's failure to help and provide drought relief is killing us all," Iyyakannu, the Tamil Nadu chief of the Desiya Thenidhiya Nathigal Inaippu Vivasayigal Sangam told The News Minute.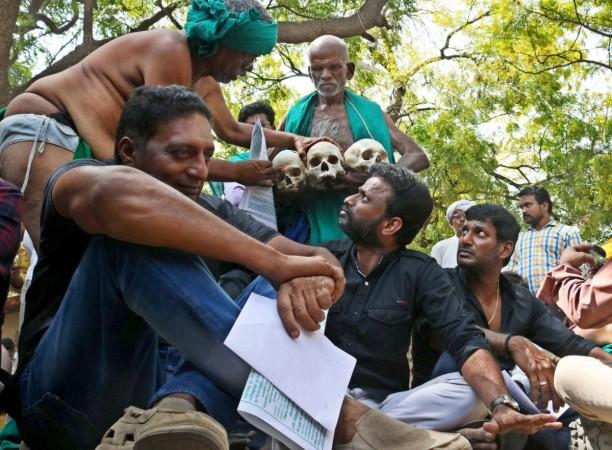 Palanichamy, a 65-year-old farmer from Trichy who has been protesting at Jantar Mantar and wore his brother-in-law's skull around his neck, told Hindustan Times that even though wearing the skull does haunt him, it is for a better future for the family. "I will not leave until our demands are met; even if it means dying here. Sometimes I think I may be of better use to my family dead. They pay the family of a farmer who committed suicide Rs 3 lakh," he said.
Dead snakes
The protesting farmers also held pieces of dead snakes in their mouths on Wednesday in an attempt to draw the authorities' attention to their sufferings. They said they have been pushed to poverty because of repeated droughts.
"We arranged for the snakes here, cut it into pieces and distributed them. With the crops dead, only rats and snakes are left on our fields. We each held a piece of a snake in our mouth to show that this was all we can afford to eat now," Premkumar, a farmer from Trichy, told HT.
Live rats between their teeth:
The farmers, dressed in green lungis covered with leaves, protested holding live mice between their teeth on Monday to show the government that they have been reduced to eating rats due to the destruction of their livelihood.
"Eating rats and mice is not new for us. Meat and chicken, and even pulses and grains can get very expensive, so we have eaten rat curries in the past," Palanichamy said. He added that his brother-in-law had stopped eating before he killed himself in 2016.

Students show solidarity with farmers
Students from several districts of Tamil Nadu have also begun protesting to show solidarity with the farmers agitating in Delhi. According to India Today, the students have called it "Jallikattu 2.0" referring to the massive protests that took place across Tamil Nadu, especially on Chennai's Marina Beach, to put pressure on the government to make the bull-taming sport legal in the state.
Students from Madurai were the ones who initiated the protest and have been assembling near Madurai Thepakulam since two days to protest against the Centre for not helping the farmers. Students in Coimbatore also attempted to gather at the VOC grounds to protest but the police did not allow them to enter following which a small fight broke out and led to the detention of the protesting students.
The agitating students protested at the Marina Beach despite heavy police deployment. They also did a Facebook Live from the beach and urged the citizens to show solidarity with the farmers protesting in Delhi. The police then warned the students of strict action if any message was posted on the social media.
Around 23 students trying to enter the beach with placards were detained. At least 10 students got into the sea water and protested against the plight of the farmers. The police then managed to bring them back to the shore with the help of local fishermen following which the students were detained.