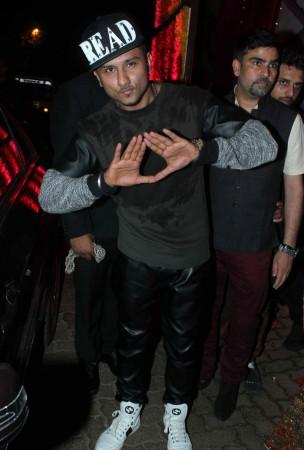 Yo Yo Honey Singh's songs may have been chartbusters, but they have often landed the rapper-composer into trouble.
In December, last year, popular singer and rapper Badshah and Honey Singh were slapped with charges of obscenity by Anand Pal Singh Jabbal, a resident of Nagpur. The police reportedly raided stretches of NCR for the duo after the complainant accused them of writing vulgar lyrics and spreading bad influence.
According to a Bollywood Life report, the "Birthday Bash" singer appeared at the Pachpaoli Police Station, Nagpur on 1 March, as per court directives. He, however, reportedly refused to submit a voice sample to go with the one collected from the video.
The "Lungi Dance" singer was at the police station for just a couple of minutes, and it appeared as if he were in a hurry. "We are now going to submit the panchnama before the court for further direction," The Times of India quoted senior PI RD Nikam.
Singh was at the peak of his career when he went off radar and stopped making music. While some speculate he was taking a break, others say it was a tiff with Shah Rukh Khan which pushed him into depression.
Wife Shalini Singh, however, rubbished these rumours saying he had been advised bed rest by doctors as too much work had begun to take a toll on the his health. "So, Shah Rukh bhai hitting him is just a big rumour, we have no clue why and where it came from. He even got some calls asking him this and he made it clear that nothing like that happened. But even after the clarification those stories appeared, which is strange!" Hindustan Times had quoted her as saying.