WhatsApp has been rolling out a lot of updates of late. Many of them are new features that make the popular messaging app easier and more convenient to use. WhatsApp has now released a new beta version for Android users that brings a feature that allows users to lock the voice recording/mic button.
The new feature comes in handy while recording long voice clips, and spares the user from having to press and hold the recording button.
In addition to the new voice recording lock feature, the latest WhatsApp for Android beta version 2.18.102 also lets the users know the size of WhatsApp stickers before they can download it.
The lock for voice recording feature is available only for WhatsApp Beta users and in the latest version (i.e. v2.18.102). Notably, the feature was already available for iOS users.
How to use the lock voice recording feature
To lock for voice recording feature, you simply need to tap the mic icon at the bottom right of your WhatsApp chat page and swipe it upwards. This will bring up the lock symbol, which means the voice recording is now locked.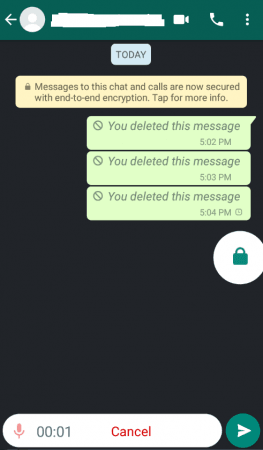 Once you are done recording the message, you can tap the send button (rocket icon) to send the message. But in case you change your mind, you can tap the 'cancel' option which deletes the voice recording.
WhatsApp is also said to be working on adding the option to preview the recorded voice message before sending. This feature could be introduced in a future update.
Last month, WhatsApp rolled out a Group Description feature that allows users to describe their WhatsApp group and help the user know what the group is about.
It also released a feature that allows users to switch between voice and video calling, while on a WhatsApp call.
The Group Description feature is currently rolled out to the public version of the app and allows users to add a description as long as 512 characters to any of their groups. To add a description, you need to tap the Group Info icon and type the description in the box below the thumbnail of the group. Likewise, there's also a feature that allows you to search for a particular member in a group chat.
The WhatsApp Switch feature allows you to toggle between voice and video calls. To use it, you will simply need to tap on the video calling tab that will appear during a voice call and vice versa.