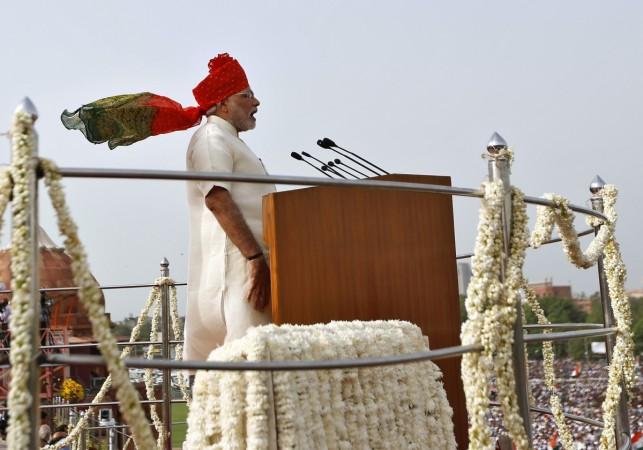 Prime Minister Narendra Modi's Independence Day speech holds a lot for India's economy, even though some feel that Modi refrained from announcing big-bang reforms with an exception of his decision to scrap the Planning Commission.
For Live Coverage of Modi's Maiden I-Day Speech CLICK HERE
For HIGHLIGHTS of Modi's I-Day Speech CLICK HERE
Several of Modi's announcements could help boost several economic sectors in the country.
Here's a look at what Modi's announcements hold for the Indian economy:
Modernisation of outdated economic planning: Modi's move to scrap the Planning Commission and replace it with a "super think-tank" was the most significant part of his speech.
The Planning Commission, a 65-year-old policy-making body that lays down five-year plans for the government, is said to have waned in the light of new economic realities.
Modi said that a new institution would be set up in place of the Planning Commission, which will be based on economic federalism and public-private partnerships to cater to the new economic environment.
Planning Commission member Bimal Jalan himself welcomed the decision, saying: "It is very good idea. Planning has become an outdated concept now. There is a need to modernise it. We have to see the blueprint of the new concept. But change was very much required," reported The Press Trust of India.
Foreign investments can flow into India's manufacturing sector: Modi's ambitions of bringing foreign direct investment to India are well known, with his government having opened the FDI cap in defence and railways in the Union Budget.
But in his I-Day speech, Modi called for foreign investors to look at manufacturing in India and to boost the manufacturing sector. This statement will go down well with global businesses, especially with Modi's assurances of "zero defects" and "zero effect on the environment".
This announcement could open up the manufacturing sector in India to foreign companies, who can pour in millions of dollars into the sector and hence into the economy.
Modi's long-term plan for the Indian economy through this announcement is to ensure that exports outweigh imports so as to tackle issues around current account deficit and balance of payments.
Bank Accounts for Poor Can Help Farmers Boost Agriculture Productivity: By bringing in the poor into the country's banking system, the country's agricultural sector will get boost, as it would enable farmers to take loans from banks for increasing agricultural output and modernising farming.
Nearly 500 million Indians do not have a bank account yet, and each year, hundreds of farmers commit suicide after falling in deep debts owed to money-lenders. The Jan Dhan Yojana would extend banking services and accident insurance coverage to the poor, which would boost farmers' productivity and India's agricultural sector.
Tourism could get a boost by Modi's emphasis on Cleanliness, Women's Safety: Modi's vision of a 'Clean India' may seem like an ideal that would figure low on priorities on India's development needs, but the idea could serve well for tourism in India, if it is implemented effectively to ensure cleaner cities and villages in the country.
Another major deterrent to tourism in recent years has been the issue of crimes against women, and Modi pointedly addressed it in his speech on Friday, calling for a social overhaul on the issue and putting responsibility on parents for better upbringing of sons. An image of India as a safer place for women than it is now could significantly boost tourism and the corresponding revenues.