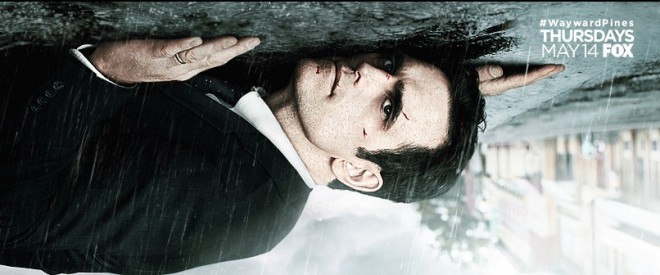 "Wayward Pines", one of the most anticipated projects of M Night Shyamalan, will premiere in FOX on Thursday, 14 May. The 10-episode mini-series is a re-imagination of the best-selling trilogy "Pines" by Blake Crouch.
Shyamalan, who is best known for thrillers like "The Village", "Signs" and "Devil", will be bringing his exceptional talent for plot-twisting and suspense in "Wayward Pines", if the trailer is anything to go by.
Official Plot Summary

Secret Service Agent ETHAN BURKE (Academy Award nominee Matt Dillon, "Crash," "City of Ghosts") drives to the bucolic town of Wayward Pines, ID, searching for two missing federal agents. One of the best Secret Service agents in the Seattle office, he's the man who knew missing agent Kate Hewson. better than anyone. They were more than partners; their relationship nearly destroyed Ethan's marriage.

Everything changes when a truck slams into his car...and he wakes up in the Wayward Pines Hospital, with the intense and unpredictable Nurse Pam at his bedside. It soon appears that Pam is more interested in harming than healing. She and Ethan grow into deadly rivals, and her role in the town proves much deeper than anyone realises.
Ahead of the TV series' premiere in May, here is the complete list of cast and characters that will be seen in the upcoming FOX drama:
Matt Dillon as Ethan Burke
Burke is a secret service agent, who is investigating the disappearance of two federal agents - one of whom used to be his lover - in a mysterious small town in Idaho. He is coveted as one of the best agents at the Seattle office.
Carla Gugino as Kate Hewson
Hewson is one of the agents, who mysteriously disappeared from Idaho. She is also Ethan's former lover.
Melissa Leo as Nurse Pam
Pam has many secrets and Ethan soon realises that the nurse is more interested in harming him than healing him. She has a very deep role in the occurrences of the town and Pam and Ethan soon become deadly rivals.
Toby Jones a Dr Jenkins
He is a psychiatrist who treats Ethan at the Wayward Pines Hospital.
Shannyn Sossamon as Theresa Burke
Theresa is Ethan's wife who has come to Wayward Pines with him. The duo enrols their teenage son, Ben Burke, played by Charlie Tahan, in the only school in town.
Juliette Lewis as Beverly
Beverly is a bartender who bongs with Ethan over mutual weariness of Wayward Pines.
Tim Griffin as Adam Hassler
Hassler is Ethan's boss, who keeps Ethan's wife Theresa updated with all the latest information he receives.
Terrence Howard as Sheriff Arnold Pope
The Sheriff is annoyed that a secret service agent is snooping around on his turf. He informs Ethan that there is no getting out of Wayward Pines once you are inside.
Hope Davis as Megan Fisher
Megan is a teacher at the school Ben is attending. She provides key information about the town's origins.
Reed Diamond as Harold Ballinger
Harold is a toymaker in Wayward Pines.
Siobhan Fallon as Arlene Moran
Moran is Sheriff Pope's secretary.
Sarah Jeffery as Amy
Amy is Ben's friend.