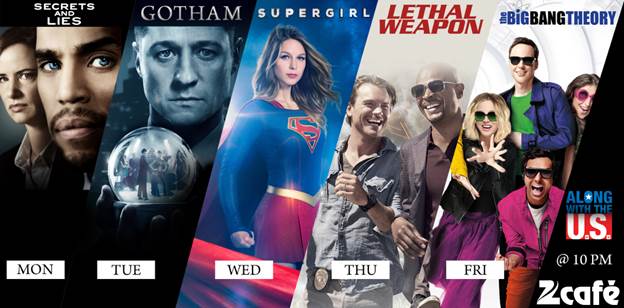 Indians love American and English TV shows just as much as the next guy. So, why should we have to wait a week or more for it to reach our TV screens? Well now we don't have to.
As part of their Along with the US campaign, the English entertainment channel Zee Café is bringing some of the biggest shows in the world to India at a time gap of mere 12 hours. The five popular shows that Zee Café is bringing to Indian screens on each day of the week starting Monday, September 26 are: Secrets and Lies (season 2), Gotham (season 3), Supergirl (season 1), Lethal Weapon (season 1) and The Big Bang Theory (season 10), respectively.
"It has always been our principle intention to enthral our audiences with the best in English entertainment. This time we are taking a leap ahead as we are not just premiering America's biggest titles but are also showcasing them within hours of their US premiere. Shows like The Big Bang theory, Gotham, Supergirl have helped us gain viewership and this time also we will surely receive a positive feedback from the audience," says Ali Zaidi, Business Head, Zee English Cluster.
Check out the full schedule of the shows here:
| | | |
| --- | --- | --- |
| Date | Show | Time |
| September 26 | Secrets and Lies | 10 pm |
| September 27 | Gotham | 10 pm |
| September 28 | Supergirl | 10 pm |
| September 29 | Lethal Weapon | 10 pm |
| September 30 | The Big Bang Theory | 10 pm |