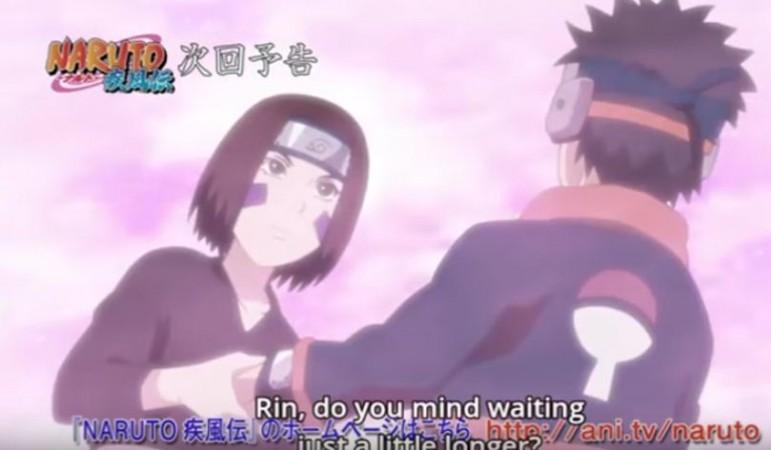 Season 20 episode 473 of "Naruto Shippuden" is going to fulfil the hopes that all fans had after watching Obito die in the previously aired "You Better..." It is understood that "The Sharingan Revived" will bring the Uchiha back to the world of the living at least until he fulfils a mission.
In the previous episode, we saw Obito turning into ashes after getting hit by Kaguya's bone. Despite his questionable choices in the past, Naruto's influence had changed him for the better. In episode 472, he had even thanked Naruto for opening his eyes and making him realise how much he wanted to be Hokage.
The episode had ended with Obito reuniting with his childhood sweetheart, Rin in the afterlife. However, in the promo for the upcoming "The Sharingan Revived," we see a conversation between the couple. Rin says, "Come on, Obito," to which the Uchiha asks, "Do you mind waiting just a little bit longer?" It is clear that something is disturbing Obito in the afterlife. He is not ready to move on yet, and it must have something to do with helping Naruto defeat Kaguya.
Also Read: You wont believe which "Harry Potter" star is attending Comic Con India
Obito clarifies that he wants to make a detour on the way and Rin wonders who he wants to help now. This is not revealed in the promo, but fans can guess that it is probably his devotion to Kakashi that is not allowing him to move on.
The big battle is soon coming to a close, especially with Naruto already having separated Black Zetsu from Kaguya. It is understood that the anime itself will come to an end soon. The upcoming episodes of the series are titled "Congratulations" and "The Final Valley." The name of episode 475 eerily rings like that of a finale.
So, don't forget to watch whatever is left of Naruto Shippuden when it airs on Thursdays at 7:30 p.m. (JST). You can watch all the episodes also via Crunchyroll, JPplayer and NarutoSpot.