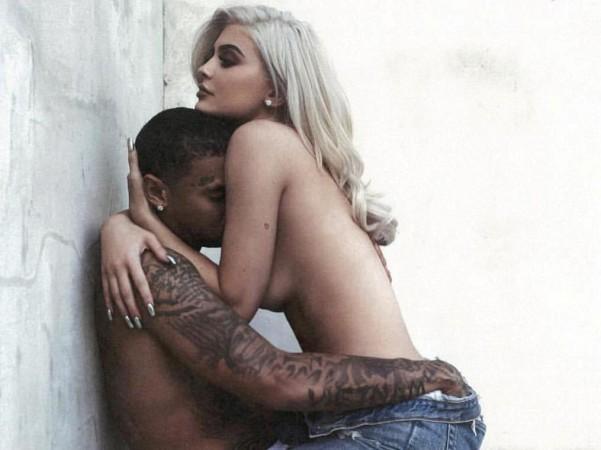 Kylie Jenner again stripped down and gifted "little surprise" to the world in the form of a very steamy short film starring herself with boyfriend Tyga.
Also read: Watch Dance Moms season 7 episode 5 live: Will Elliana Walmsley get kicked out of the show?
The Keeping Up With the Kardashians star clearly did not shy away to get intimate with her boyfriend Tyga in the new short film. Earlier, the 19-year-old TV star shared a topless picture of herself with boyfriend on Instagram to mark Tyga's 27th birthday.
The sensual short film, which has reportedly been shot in Venice and California, displays the duo getting hot and heavy in the shower. Although they are wearing clothes, the hot shower and steam soaking through their white T-shirts make it very provocative. By the end of the video, they are both topless and holding onto each other.
The film was shot and directed by photographer Sasha Samsonova and was a secret project and set to the music of Niia. "The whole deal with this video is that it's a very personal experience. It's like you're watching this person from a point of view that has never been seen before."
She then continued, "It's super raw footage. As soon as my shoots with Kylie come out, so many people write on my page and rant about how it's all Photoshop, Photoshop, Photoshop. But the thing about this video is that there's no post-production work whatsoever. It's only cut together. It's very raw, and we tried to keep it that way — no skin retouching, nothing."
The pair spent the Christmas together and were spotted on camera making out at the Christmas party thrown by Kris Jenner.
This is not the first time. Kylie and Tyga first appeared in the rapper's music video earlier. The video confirmed their relationship while the video showed Tyga greeting Kylie with hugs and kisses. The video was PG-rated with a lot of intimacy in it.