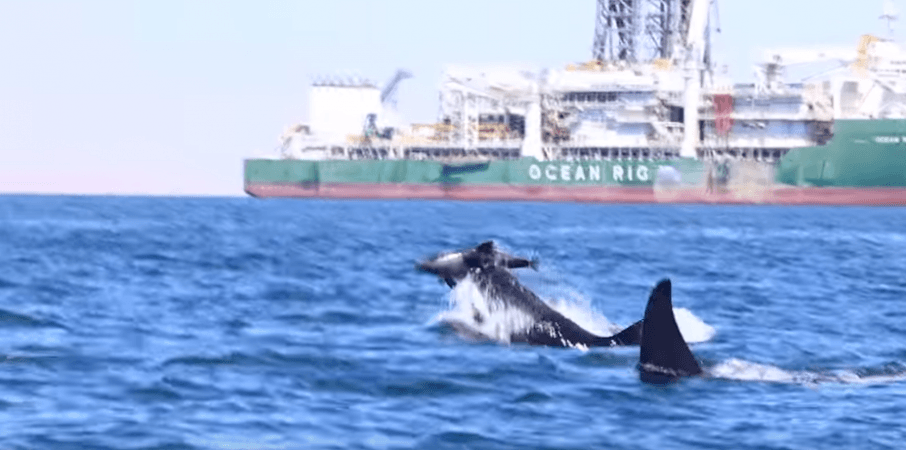 A rare footage of a dolphin being attacked to death by two killer whales has surfaced the internet. The attack, that took place off the coast of Africa, was captured by scientists. They managed to record the moment the dolphin was tossed out of the water and into the jaws of one of the killer whales.
The dolphin's bloody carcass washed up on a beach several days later after it was torn apart by the two mammals. Images of the remains show that it was disemboweled and shredded of its blubber.
Dr Simon Elwen, a researcher, claims such attacks are not all that uncommon, but in his 20 years of research on marine life, he had never seen a carcass so severely ravaged.
The body was washed up ashore on a beach near Pelican Point, Namibia, earlier in March. A marine biology team had been contacted to identify the creature, but by the time they had reached, the body had been swept back into the ocean.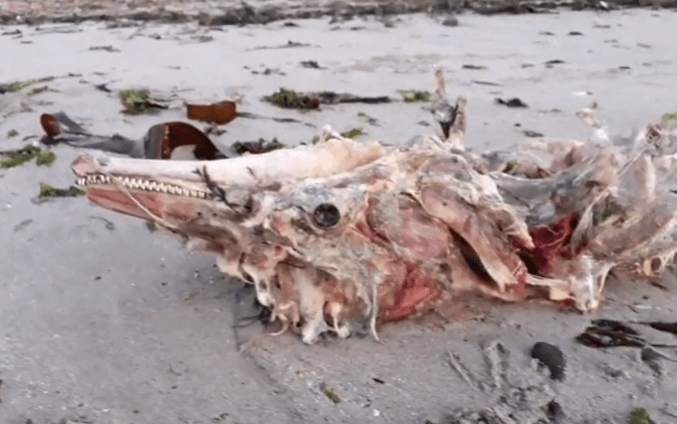 Luckily, the same scientists had been able to capture the footage of the feeding frenzy the previous day, while looking at the impact of an oil spill. They spotted the distinctive spin of a killer whale on the surface of the surface of the water.
The clip shows the two killer whales hunting down the dolphin. Dr Elwen, the director of the Namibian Dolphin Project (NDP), said: "The heavily mutilated, freshly dead carcass was reported on a nearby beach through the local stranding's network. The NDP responded to the call but the carcass could not be found and is thought to have washed out to sea."
The remains were in no condition to be studied, but the footage and the condition of the carcass have led them to the conclusion that the whales' attack was the reason.
"I have only ever seen animals 'peeled' of their blubber and with their organs pulled out being caused by killer whales," Dr Elwen added. "So there's every indication the carcass belonged to the adult Heaviside's dolphin attacked in our footage from the day before."
True to their nature of hunting in packs, the whales can be seen circling the hapless dolphin while one of them attacked it. This rare sighting was the first time the group of researchers of the NDP witnessed in about 600 trips.
Dr Elwen said: "This is a once-in-a-lifetime event with highly valuable data, so the team mobilized immediately. After about an hour they spotted a very quick rush at the surface back and forth. The larger killer whale lifted his body out of the water and revealed an adult-sized Heaviside's dolphin in his mouth.
"We could see that the Heaviside's dolphin was bleeding but there was no further struggle and the killer whales dove underwater with their prey."