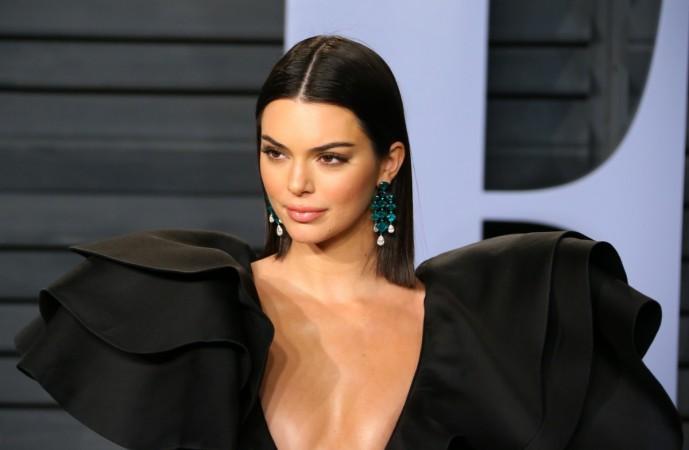 From runway queen to a rapper — Kendall Jenner is sure experimenting with various genres. Recently, the model made a cameo appearance in Lil Dicky's new music video, Freaky Friday featuring Chris Brown.
In the last 20-second, Kendall is seen rapping about her vagina as the video shows Dicky accidentally trading body with the 22-year-old supermodel.
Grabbing her chest, she raps, "I'm Kendall Jenner. I got a vagina. I'm gonna explore that right now. Holy s--t, I got a vagina. I'm gonna learn. I'm gonna understand the inner workings of a woman."
Upon releasing the video, Kendall's mom Kris Jenner took to Instagram to express her view. She wrote, "Kendall!!! This is so amazing!!!"
Not only Kendall, Dicky's new video features a handful of celebs. In the video, it shows Dicky getting into the body of Chris Brown because Dicky thinks that "everybody else in hip-hop is so much cooler than him."
After transforming into Brown, Dicky drives a Ferrari, talks to Kanye West through FaceTime, and mingles with bikini-clad models. Later he returned to his rightful body and ended up dancing with Chris Brown.
Celebs like Ed Sheeran and DJ Khaled have made cameo appearances in the music video.
Watch Lil Dicky's Freaky Friday music video here.
Speaking of Chris Brown, the 28-year-old rapper has made headlines because Snapchat was running an advert for a game which featured Rihanna and her former beau Chris Brown. The ad asked the users if they would rather slap Rihanna or punch Brown. Later Snapchat apologized for the fiasco.
Rihanna took to Instagram to slam the social media app, writing, "Now SNAPCHAT I know you already know you ain't my fav app out there! But I'm just trying to figure out what the point was with this mess! I'd love to call it ignorance, but I know you ain't that dumb!"