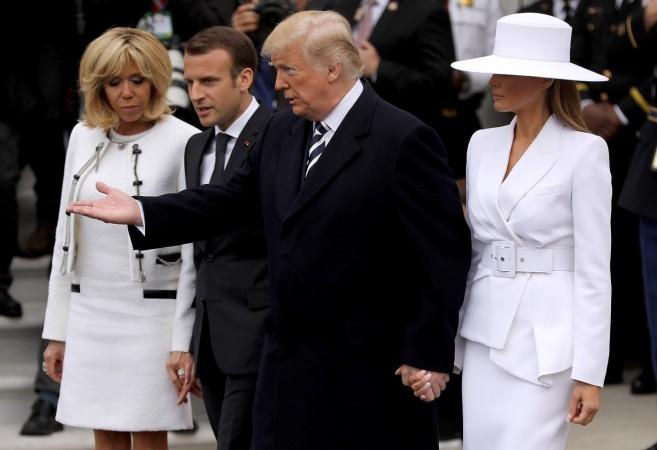 Yet another awkward moment was caught between US president Donald Trump and first lady Melania Trump when French president Emmanuel Macron arrived at the White House, April 24.
The awkward moment was caught when Trump and the first lady stood next to the president to welcome Macron and his wife Brigitte Marie-Claude Macron. The POTUS was captured on camera circling his pinky finger just to hold Melania's hand.
While Trump appeared to make a subtle gesture to hold her hand, Melania stood firmly to not let him take her hand. He first extended his little finger and then gave her hand a shake before she agreed to hold his hand.
The video showing the awkward moment went viral on social media, with Twitter users calling it a brutal video or even "cringeworthy". Some said that Melania looks happier with former US president Barack Obama than with her husband, while some said she is keeping it real.
"#teamMelania that's right girl! Passive resistance in public. Speaks volumes! P.S. we don't like him either," user Dinkintown said.
"Her husband is icky. My prediction is she's getting out of that marriage as soon as hes putt of office," user smoore7558 tweeted.
"Melania knows here his hands have been. Who could blame her?" user kitchendeziner said.
"Maybe it looks awkward to us, but maybe that is their thing. Looks a little flirting between a husband and wife. Maybe it is a sign of comfort from him to her as maybe she is uncomfortable being there. Only they know the truth," user amie_lawson said.
For Melania's part, the first lady looked beautiful in an all-white ensemble with a dramatic white hat. She wore a $2,195 suit with a belted asymmetrical blazer designed by Hervé Pierre. She wore a $745, 4.7-inch heels from French shoe designer Christian Louboutin.