No one can chill anymore after watching Netflix's chilling thriller Bird Box. The latest blockbuster from the streaming service has become such a rage ever since its release that humanity came up with a 'Bird Box challenge', where people try to do different tasks blindfolded. But what was it that scared Sandra Bullock's character so much that she had to escape, blindfolded and cross an entire river with two kids? Well, we finally get our look at the creatures that made humanity blind itself.
Creature designer and sculptor Andy Bergholtz and special effects studio SFX Atlas, have uploaded a pic on Instagram giving the world a look at the monster. Despite shooting a scene with the monster, the makers later decided to cut it from the film. "We had the unique pleasure of designing a creepy makeup for the film, although the scene ultimately ended up on the cutting room floor," Berghotz said in the Instagram, which was later removed.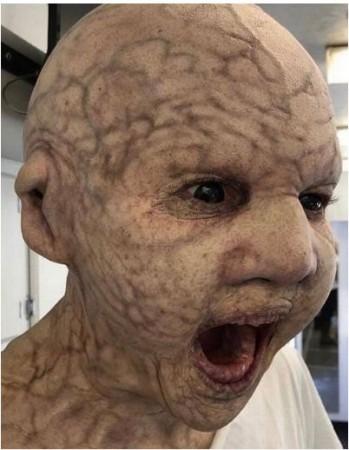 Berghotz reportedly said that no two people will see the monster in the same way; their physicality changes from person to person. The baby faced monster with a bulbous, vein covered head, swollen ears, no teeth and snake-like body meant was what Malorie (Sandra Bullock's character) was supposed to see in the film. "This makeup appeared in a cut 'dream/nightmare sequence' with Sandra Bullock's character," Bergholtz explained.
"Considering her pregnant state and emotional arc thru the movie, the producers felt Sandra's nightmare would have something to do with a twisted, demonic baby creature attacking her. I sculpted at least 3 or 4 variations on the design before it was approved, which began as a more aggressive, monstery look and was revised to be a bit more subtle in the end. I also had the pleasure of painting the finished prosthetics before sending them to set, to be worn and performed by the one and only Dirk Rogers @thehalloweendirk, applied by the great @proutyfx (Academy Award-nominated makeup effects artist Stephen Prouty)," Bergholtz further added.
Although, the decision to not show the monster has been applauded by many fans. "I feel like I'm missing something here. How is seeing this supposed to make masses of people want to commit suicide? I don't understand the meaning behind making the monster look this way," one Instagram user wrote in the comments of SFX Atlas' post. Another added, "I think cutting it was the right thing to do."
Even Sandra Bullock had a similar reaction to the monster, in a recent interview with Bloody Disgusting, Bullock says, ""It was snake-like, and I was like, 'I don't want to see it when it first happens. Just bring it into the room. We'll shoot the scene.' I turn and he's like this [growling at me.] It's making me laugh. It was just a long fat baby." The director Susanne Biers also recalls how she would break into a laughter every time she saw it, "At first, Sandy was like, 'I don't want to see it,' because she thought it was scary. Then it was like, 'Don't show it to me because (I'll laugh).'
But whatever be the reason, the makers and actor from Bergholtz to Bullock to Susanne Bier agreed to not show the monster. The film's choice to not show the monster heightened the fear, keeping in mind that the viewers had to thinks for themselves what the monster looked like, which seems to have made things more interesting.