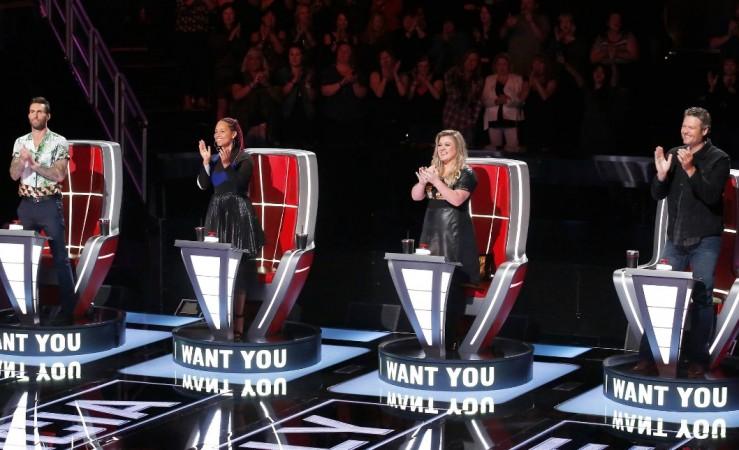 The Voice season 14 is progressing to the Battles round next week with the blind audition having officially ended after episode 6 on Tuesday. All the four teams are now full with 12 contestants each.
Adam Levine roped in two more singers on Tuesday to fill his team, while other coaches – Blake Shelton, Alicia Keys and Kelly Clarkson – could choose only one contestant each as they went into the previous episode with 11 participants in their respective teams.
Genesis Diaz, a 19-year-old from Miami, was the first contestant to take the stage on Tuesday. She sang Kesha's song Praying, and it was beautiful. It looked like nobody would turn their chairs for her until Adam and Blake did at the end of the performance. Blake pleaded her to fill the lone spot in his team but she picked Adam as her coach.
The next contestant to hit the stage was Sharane Calister. She enthralled the audience with her rendition of Ed Sheeran's Make It Rain. Interestingly, Alicia turned her chair and then pleaded her rival coach Kelly to press her button too before starting the fight to woo her to join their respective teams. Calister joined Team Alicia. Team Alicia full.
Dallas Caroline took on Willie Nelson's Always on My Mind and it was a recent performance though she sounded a little nervous. Adam Levine, Blake Shelton and Kelly Clarkson turned their chairs for her. And she picked Blake. Team Blake full.
The next contestant to take the stage was Jackie Verna. She sang the song Peter Pan by Kelsea Ballerini and it was a beautiful performance. Blake would have turned his chair if his team wasn't full but it came as blessing for Adam, who grabbed the opportunity to rope in a country singer in his team. Team Adam full.
The last participant to perform on Tuesday was Amber Sauer, who impressed Kelly with her rendition of Ed Sheeran's Shape of You. Kelly was extra choosy as she had only one spot left in her team and there was no competition with her rival coaches having filled their respective teams. But she turned her chair for Amber. Team Kelly full.
The Voice season 14 will go to the Battles round next week, where the coaches will pit their contestants against each other and choose one.
Here are team standings after the blind audition
Team Adam: Rayshun LaMarr, Drew Cole, Levelle Davison, Mia Boostrom, Reid Umstattd, Angel Bonilla, Stephanie Skipper, Tish Haynes Keys, Maya Base, Gary Edwards, Genesis Diaz, Jackie Verna
Team Alicia: Britton Buchanan, Kelsea Johnson, Jaclyn Levey, Christiana Danielle, Jamai, Johnny Bliss, Terrence Cunningham, Jordan Symone, Megan Lee, Livia Faith, Shana Halligan, Sharane Calister
Team Kelly: Brynn Cartelli, D.R. King, Justin Kilgore, Molly Stevens, Dylan Hartigan, Jackie Foster, Jorge Eduardo, Jamella, Alexa Cappelli, Teana Boston, Hannah Goebel, Amber Sauer
Team Blake: Kyla Jade, Kaleb Lee, Pryor Baird, Brett Hunter, Austin Giorgio, Spensha Baker, Wilkes, Jaron Strom, Jeslee, Bransen Ireland, Jordan Kirkdorffer, Dallas Caroline