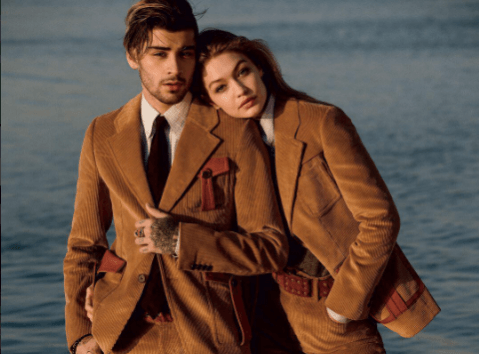 While sparks fired all over the fashion industry when Gigi Hadid and Zayn Malik posed hand-in-hand on the cover of Vogue's August issue, things didn't go down quite well. The couple featured in the cover story focusing on "gender fluid". But as soon as the cover story made its way to the Vogue website, Twitter pointed a big flaw from the story.
The topic didn't actually sum why exactly Hadid and Malik featured when there were a number of gender fluid models and celebrities present in the industry. Taking to the social media platform, many began pointing out that the couple does not qualify as gender fluid just because they wear each others' clothes.
Also Read: Zayn Malik's anxiety issues preventing him from performing solo?
Twitterati pointed out that if the topic really dealt with gender fluid, the magazine should have chosen a "black trans woman" on the cover, instead of jumping on the bandwagon of the couple's popularity. A few Twitter handles also brought to Vogue's notice that there are actually real life gender fluid people who are famous and can be featured on the cover.
The growing outraged pushed the magazine to quickly change the peg and headline of their story to "Gigi Hadid and Zayn Malik are part of a new generation embracing gender fluidity." They even released an apology statement.
The magazine released a statement that read, "The story was intended to highlight the impact the gender-fluid, non-binary communities have had on fashion and culture," Vogue's statement read. "We are very sorry the story did not correctly reflect that spirit - we missed the mark. We do look forward to continuing the conversation with greater sensitivity."
However, this statement only added more to the existing fire. A Twitter handle shared dismay through a tweet reading, "I've lost respect for Sayn and Gigi after that Vogue interview they aren't even educated on gender fluidity f**king ignorance they are."
But Zayn and Gigi never said gender fluid not even when talking abt clothes so again lies

— Mina (@xoMinaRS) July 16, 2017
I never personally tweeted about the Zayn and Gigi thing, but as a genderfluid person I think it's disappointing and frustrating

— SCREAM Hoe™ (@omiandcompany) July 16, 2017
Do Zayn and Gigi actually think they're 'gender fluid icons' cause they share clothes?? Fuck right off ???✋

— Lulu Delaney (@lulugdil) July 15, 2017
If you want to talk about gender fluidity, don't put Gigi Hadid and Zayn Malik front and centre

— sopigmented (@farrahfrayy) July 15, 2017
There are more tweets that blame the couple for the interview as well. But is it fair to blame Zayn and Gigi? What do you think? Let us know in the comments below.