Virtual reality has been making waves in the tech industry for quite some time as VR headsets like GearVR, Oculus Rift and HTC Vive have sparked off tremendous response in the market. If the VR headsets don't excite you, we have put up a list of the most amazing VR hardware that can change your world forever.
VR treadmills or Virtuix Omni (Price: $500 or more)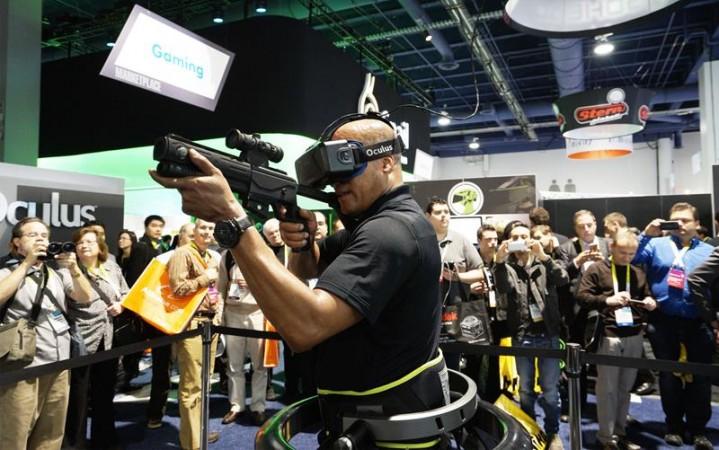 The hype surrounding the VR treadmills aka Virtuix Omni has been around since its Kickstarter campaign began in 2013. You can put your best foot forward with full body-tracking support and limitless movement in the virtual world.
Developers are still optimising ways to enhance the treadmill-based movement system while preserving the immersive experience of the user in the virtual world. Users can move around and interact with the environment as in the real world, thanks to the special pair of shoes that feature Omni Tracking pods for accurate movement tracking.
The notion that VR gadgets are limited to gamers will soon disappear as fitness enthusiasts could clearly benefit with VR-based treadmills that require little space to operate.
Until now, VR gadgets were known to present an immersive visual and aural experience without really making us feel as a part of it. But, the advent of VR suits will likely change the scenario as it makes the wearer feel like he/she belongs in the virtual world with physical feedback in real time.
The gadget makes use of vibration pads and sensors to let you feel the sensations happening to the in-game character or the experience in the VR world.
Roto VR is the high-tech chair supporting omni-directional or 360 degree driving experience like you have never experienced in your life before. Get the virtual feel of a high-speed car chase or enjoy a spaceship simulation while driving on this chair.
Leap Motion VR is potentially the least expensive of all gadgets in the list (priced at just $80) and yet it makes everything so simple and user friendly. You could just use your hands to navigate in the virtual world without the need for a haptic glove or controllers to manoeuvre.
You could be simulating or practising surgery, a sign language or something weird in an imaginary world. With over 200,000 developers currently working on the Leap Motion tech, it is definitely here to make a telling impact in the VR world.
VR exercise bike aka VirZoom (Price: $399)
Ever thought of a fun way to exercise? The VirZoom is here to help you accomplish the feat, albeit in a virtual world.
The VR bike looks similar to your real life exercising bike with some geeky upgrades like triggers and programmable buttons on the handle. It is a compact and foldable gadget that can be put aside when not in use.
The bike also bundles with an arcade game called VirZoom, which comprises several mini-games that you can play while you exercise. It is built on the simple concept that allows you to play while you exercise, with various moves like ducking and dodging your way through a barrage of missiles from silos and warships.
You are given the task of controlling a helicopter while you lean left or right, or duck to steer. You will be shifting your riding positions constantly as you move in the virtual world. Pick your favourite from a whole range of arcade games like F1 racing and Pegasus riding.
You can also track your progress from the progression tab in the main menu. Keep track of your calories burnt and distance pedalled on your virtual bike and so on. Also, sync your fitness-tracking apps such as FitBit and Strava for a completely streamlined fitness regime at your fingertips.