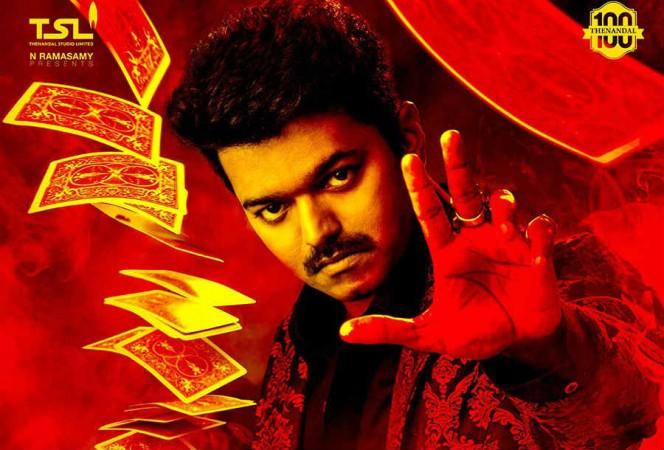 The first look of Vijay's Mersal has received fantastic reviews from the audience. Two looks of the actor were revealed on the occasion of his 43rd birthday on June 22.
The posters show Vijay in a rural avatar and in a magician's get-up. However, the third and the last look of the actor has not been unveiled yet. It is believed that the makers want to keep it a surprise.
Many celebrities have lauded the two looks of Vijay in Mersal, which stars Samantha, Kajal Aggarwal and Nithya Menen in the lead roles.
Here are the comments posted by them on Twitter:
Sivakarthikeyan : Mersal first lookBest wishes to @actorvijay sir @arrahman sir @Atlee_dir and full team
Kajal Aggarwal : First look semma #Mersal
GV Prakash Kumar: #evercharmingILAYATHALAPATHY ... looks so young and fresh... advance birthday wishesna ...
Arya: Massssss @actorvijay anna Extraordinary Title #Mersal congrats brother @Atlee_dir proud of u @ThenandalFilms @arrahman
Ram Pothineni: #Mersal is Mass! Killit buddy! @Atlee_dir
Vignesh Shivnn: Merattaallll
Sincere Wishes to the powerful team for a grand blockbuster
#Mersal
Samuthirakani: #Marsal MIRATTALLL...
Venkat Prabhu: #Mersal aagitom @actorvijay @arrahman @Atlee_dir @ThenandalFilms
Vivega: You asked me if d FL portrays Mass or Class. Youmisd Marana Mass. Heres #Mersal for you @actorvijay @arrahman @Atlee_dir n team
Bharathan: WOW @actorvijay first look is amazing !!!! All the best to the whole team of #Mersal #HBDMersalVIJAY
Sathish: Wowwwwwww.... extraordinarymassssssss title #Mersal best wishes to our #Ilayathalapathy @actorvijay sir @Atlee_dir and Team
J Anbazhagan: Mass is completely redefined in #Mersal.
Huge treat awaits in Kollywood Box Office.
Anjana: Mersalaayiten !! semma first look! #HBDMERASALVIJAY
Robo Shankar: By looking the #Mersalfirstlook zoom in we can see #Vijay sir done hardwork to gain his physique
Dhananjayan Govind: #Mersal first look presents @actorvijay in super look. He is growing young every year. Advance wishes #HBDMersalVIJAY
Metro Shirish: Mersal #firstlook! @Atlee_dir @ThenandalFilms & @actorvijay sir can't wait for the teaser! @MuraliRamasamy4 #Mersal #HBDMersalVIJAY
HarishUttaman: Mersal Samrat... god bless you
Sam Anton: Mersal title for our thalapathy. .best title in years :)
Archana Kalpatti: Mersal AayittenSemma first look
Prasanth P: Vera level #மெர்சல் Thalaiva love u #verithanam # massthalapathy #HBDMerasalVIJAY
Balasaravanan: #Mersal MERATTTALLL THALAPATHY....@actorvijay @Atlee_dir MERATITINGA....#Thalapathy61 THERIKUTHUUU....
Senthil Veerasamy: He is the THALAPATHY!! Stop him if you can now!!! #Mersal
Nithin Sathya: #Thalapathy #vijay definetly can see a change coming in !!! #pandhayam ?
Vikranth: Semma merasal @actorvijay @Atlee_dir
Aadhav: #Mersal This is going to be Bigggg #Thalapathy61 #FirstLook ! Vijay anna looks @actorvijay
Arivazhagan: Congrats @ThenandalFilms @MuraliRamaswam4 @Atlee_dir @arrahman 4 @actorvijay Sir's #Mersal
Ike: #Mersal FL of #Mersal @Atlee_dir darling !! Flavour of TamilNadu!! @ThenandalFilms #HBD #Vijay61 #BestBday
DD: Azhagan en Thalaivan Thalabathyyyyyyyhav the happiest of bday my @actorvijaysir ,v love u forever!@ThenandalFilms
Shantanu: Paahhஇந்த மனுஷனுக்கு வயசே ஆகாது #மெர்சல் charisma he's got unbelievable தலைவா @actorvijay @ThenandalFilms @Atlee_dir brotherika vidunga
Vikram Prabhu: #Mersal style! Best wishes to @actorvijay sir @arrahman sir @Atlee_dir @ThenandalFilms & entire team! #Thalapathy I'm waiting!
Sayyeshaa: All I can see on my TL is #Mersal .. #Thalapathy #Vijay sir MASS! #HBDMersalVijay
Sibiraj: #Mersal! The title says it all!Thaaru Maaru get up!
Krishan: @actorvijayannaaaaaaa MAAASSSSSSS first look #Mersal tile Mersal and from now #Thalapathy adada