After wreaking havoc in the Philippines and killing over 200, Typhoon Tembin (known as Vinta in the Philippines) is now headed for Vietnam. Even though it has been said that the storm isn't as strong now, hundreds of people in the Mekong Delta have been evacuated and moved to higher areas for safety.
Weather forecasters believe that Tembin could have a severe effect on the delta's southern tip and the typhoon brought heavy rainfall and strong winds on Monday, December 25, night. However, by Tuesday, Tembin had weakened and has not made a landfall in Vietnam yet.
Bringing some relief, officials also have said that Tembin may not make a landfall in Vietnam at all, and instead move towards the Gulf of Thailand later on Tuesday and dissipate, reported the Associated Press.
Even then, Vietnam still remains on alert in case the storm changes its path. Oil rigs remain closed in the nation and fishermen too have been asked to stay away from the sea. "Vietnam must ensure the safety of its oil rigs and vessels," Reuters quoted Prime Minister Nguyen Xuan Phuc as saying. "If necessary, close the oil rigs and evacuate workers."
As a precautionary measure, schools and several other institutions have been turned into shelters to lodge people who have vacated their homes, mostly made of tin sheets and wood, which cannot sustain such severe weather conditions.
The Mekong Delta rarely witnesses typhoons and storms, but Tropical Storm Linda hit the region in 1997 killing about 770 people. Over 2,000 residents were also said to have been missing at the time.
While Vietnam may have been spared Tembin's rage, the storm battered the Philippines over the weekend. Known as Vinta in the nation, it first hit the southern island of Mindanao causing landslides, flash floods and mudslides in the region. It is also suspected that an entire village has been buried in the mudslide. "We're are still trying to confirm reports of a farming village buried by a mudslide due to heavy rains brought by the typhoon," the Telegraph UK quoted Ryan Cabus, an official in Tubod town, as saying.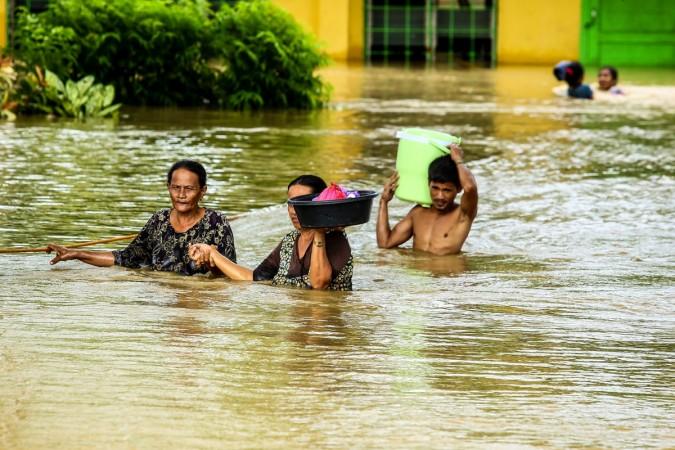 "The river rose and most of the homes were swept away. The village is no longer there," Tubod police officer Gerry Parami told AFP.
Vinta, with heavy rains and strong winds, also uprooted several trees and brought down electric poles.
It then made a second landfall on Saturday night over Balabac Island and residents were warned of heavy rains and strong winds.
The total number of deaths has been pegged at over 200, though officials are yet to confirm the figures. In addition, about 291 people are also said to be missing in the Philippines.
Speaking of the deaths, Carmen Golez, a teacher said that things would have been worse if Vinta had hit the island at night. "We're still grateful that the tragedy happened at daytime because if it's happening at night there would probably be more casualties," Golez told CNN. "We (have) experienced floods before but not like this. Even old folks said that this is the first time that had happened in Lanao del Norte, particularly in the town of Lala."
Vinta created quite a havoc in the nation even though it had been preparing for the storm. Ferry and bus services had been suspended and transport officials issued advisories to travellers asking them to be cautious of floods and landslides.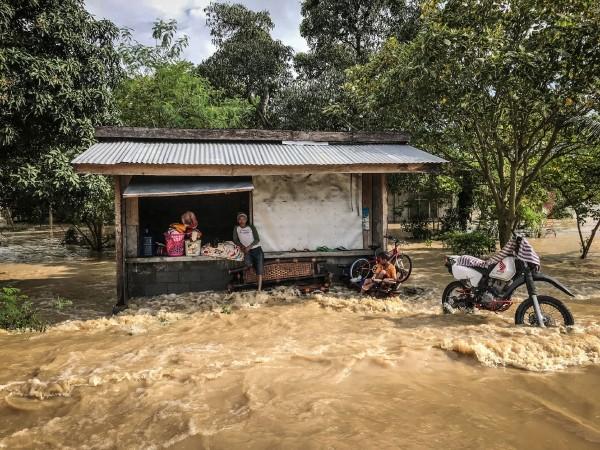 "All drivers are advised to take precautionary measures during their trips," the Land Transportation Franchising and Regulatory Board had said in a statement.
Authorities asked residents and revellers to plan the festivities as per the weather advisory and remain alert. "Let us celebrate the holiday season with precaution," said DILG officer-in-charge Catalino Cuy in a statement on Wednesday. "Please do not be complacent and take heed of weather advisories, as well as your local government units."
Urging residents to keep track of bulletins, the Department of Environment and Natural Resources had warned that the storm may change its path and said that people must be prepared.
The department also told the residents that evacuation orders may also be given and they must be ready to leave immediately. Due to this, numerous rescue boats were kept on standby and residents packed food and clothes.