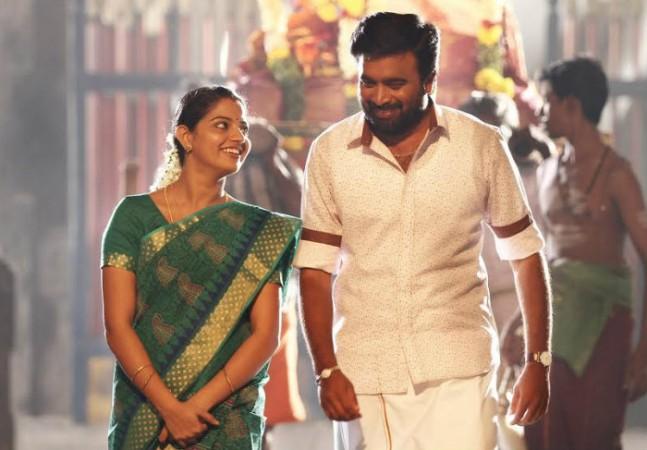 Sasikumar, Mia George and Nikila-starrer "Vetrivel" was released on Friday, April 22. The movie has been written and directed by Vasantha Mani, who has worked in a lot of films as assistant director in the past decade.
The Tamil movie has Prabhu, Viji Chandrasekhar, Samuthirakani, Thambi Ramaiah, Ilavarasu, Ananth Nag and others in the cast. "Vetrivel" has SR Kathir's cinematography and AL Ramesh's editing. D Imman has composed the music. "Adiye Unna Paathida," "Onnappola Oruthana" and "Athuva Ithuva" songs have garnered thumbs up from the listeners.
The trailer has evoked good response from the audience and the success of the audio has helped the movie create positive vibes around it. As a result, people have high expectations from "Vetrivel."
"Vetrivel" is the tale of two brothers played by Sasikumar and Ananth Nag and it is set in the rural backdrop. Ilavarasu and Renuka play the roles of their parents. Sasikumar owns a fertilizer shop in the town and he is behind Janani (Mia George), an officer in the government's agricultural department.
The story takes a twist after the hero's brother falls in love with the daughter of the village panchayat president (Prabhu). The heart-warming familial moments form the crux of the story.
Average Ratings Given by Audience: 2.5
Review:
"Vetrivel" has opened to fairly positive reviews from the audience. The movie has good but predictable story to hold the attention of the viewers. It will be thoroughly enjoyed by mass and family audience. The role is tailor-made for Sasikumar and he does his job with ease. Miya George is good, while Nikila and Varsha have played their parts well. Rest other characters have done justice to their roles.
Technically, the cinematography and editing are flawless, while Thaman's background score is top notch. Find the viewers' response to the Tamil movie below:
Common Man Sathish posted: #‎Vetrivel‬ First half has all the ingredients which Sasi Kumar movies usually used to have. Love + Comedy + Emotions + Friends + Interval Twist.
#Vetrivel @Nikhilaofficial has got wonderful characterisation & she has given her best.
#Vetrivel - Sasi Kumar yet again does the usual script which he does to satisfy B & C family audience. Hence, scenes becomes predictable.
#Vetrivel First half has all the ingredients which Sasi Kumar movies usually used to have.
Rajasekar write: #Vetrivel first half - typical #Sasikumar movie with 'Nadodigal' and Sundarapandian moments,gains momentum towards intermission with a twist
Hari posted: #Vetrivel sasikumar goes the extra mile for his brother's love alright, but there's twist& turns to keep screenplay engaging @SasikumarDir
#Vetrivel good example of how trailers can be deceiving when the content is different. Half way through, so far good and clean !
#vetrivel right done with the movie, a good entertainer with all sorts minus the length which might hurt BO, but worth the watch @igtamil
Mahavishnu Krishnamoorthy tweeted: #‎Vetrivel‬ - Cinematography & Songs are main plus points of the movie. I personally liked Sasikumar sir's wife portions in the film. Touching acting & felt something special. Overall nice attempt & good effort. All the best Trident arts Ravi sir, Manimaran & team.
Prashanth posted: #Vetrivel interval - Pakka family entertainer. Sasikumar knows what will work for him. Families enjoying it big time !!
Done watching #Vetrivel - Second summer 2016 hit. Families will make sure of that .
AjithAnnadurai tweeted: #vetrivel first half good . Thambi ramaiyah sema comedy . Nadodigal team return scene super . Little bit lengthy first half.
Screenplay slow and many emotional scenes in 2nd half . Length Should be trimmed #Vetrivel
Samuthirakani guest role with nadodigal team sema . Climax BGM Imman Nailed it #Vetrivel
Thambi Ramaiyah comedy scenes lifts the film in first half but he is missing in 2nd half . #Vetrivel
#Vetrivel 2nd half is average and emotional drama . Overall Once Watchable . Sasikumar acting as usu
Raisa Nasreen posted: Seems familiar yet interesting first half. #Vetrivel
#Vetrivel: Looks like director Vasantha Mani's decade long struggle is paying off. This is a solid debut.
#Vetrivel: works and builds on a familiar template yet so good because of the tight narration. Textured stuff.
Sriram Karanam posted: @Nikhilaofficial totall loved your character and screen presence. Nice expressions in the second half song #Vetrivel
I felt like this movie can be easily remade in to Telugu also. Tollywood accept this nice story line... #SomeOne #Vetrivel
Haricharan Pudipeddi wrote: #VetrivelReview as predictable as one may find this to be, there are still moments that make this flick work. Thambi Ramaiah portion lovely
#VetrivelReview Sasikumar plays to his strengths and churns out another rural entertainer that has shades of Naadodigal and Subramaniapuram.
Ramesh wrote: #VetrivelReview 1st Half: Starts on a typical village based romance/humour note.. Gets serious towards the interval with an unexpected twist.