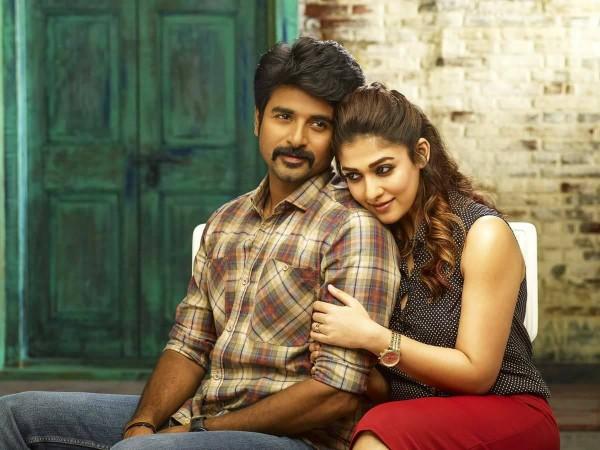 Mohan Raja is back with Velaikkaran after the massive success of Thani Oruvan. For the first time, he has collaborated with rising star Sivakarthikeyan. Nayanthara plays the female lead in the Tamil flick, which has Malayalam actor Fahadh Faasil playing an equally important role.
In Pics: Velaikkaran Movie stills | Music launch | Poster
Sneha, Prakash Raj, RJ Balaji, Sathish, Vijay Vasanth, Robo Shankar, Thambi Ramaiah, Rohini and others are in the cast. The film has Anirudh Ravichander's music and Karuthavanlaam Galeejaam and Ezhu Velaikkara songs have won the hearts of the viewers. It has Ramji's editing and Ruben's editing.
It is an action thriller that deals with a serious issue revolving around advertising industry. Sivakarthikeyan plays the role of a worker, who fights for his rights in a corporate company.
Pre-release buzz
Sivakarthikeyan has been part of a series of successful movies and Mohan Raja has reinvented his image as a director in Thani Oruvan. These factors have created a lot of buzz around the film. Also, the teaser and audio have lived up to the viewers' expectations.
Reviews:
The movie will reportedly have its overseas premieres on Friday evening, December 21 and will release in India a day later. Here, we bring to you the updates about the film as and when the response is out online:
Ramesh Bala:
Dir @jayam_mohanraja has done excellent research.. Sharp dialogues.. Message is packaged well.. Has extracted the best work from @Siva_Kartikeyan Neat screen play.. Next level of entertainment - Enlightment - Go for it..
Velaikkaran [3.5/5]: @anirudhofficial songs are good.. Amazing slum set by Art director Muthuraj Nice camera work by Ramji
Velaikkaran [3.5/5] : FahadhFaasil delivers a Towering performance.. One of the reasons why this movie will be talked about is because of his acting.. Nayanthara 's role has more scope in 1st half.. She has done well and looks great..
A complete transformation by @Siva_Kartikeyan Not the usual comedy.. Serious, but smart and relatable characterisation to the Masses.. Siva vs PrakashRaj is Mass.. Siva vs FahadhFaasil is Epic Class.. Easily his Best Performance in his career..
Velaikkaran [3.5/5]: An excellent movie.. That exposes how FMCG companies deceive ppl thru Marketing and how consumers are forced to buy unsafe products.. What can Velaikkaran/workers Do about it..
Velaikkaran 1st Half: Macro level issues shown at a Micro relatable level.. Entertaing and moves at a fast pace
Haricharan Pudipeddi:
As much as you feel #Velaikkaran gets into message-heavy mode, it works due to the relatability factor and how it chooses to address the issue - in a commendable commercial fashion - it takes up. @Siva_Kartikeyan graduates to next level in performance.
Fahadh Faasil, needless to say, is terrific in #Velaikkaran, especially in the second half. Had my reservations ( kept thinking he might end up like Manoj Bajpai in K'wood) about him being cast in a Tamil film, but boy was I wrong.
Halfway through #Velaikkaran. Hard-hitting, morality-ridden tale centered around blue collared workers. Message-heavy but thankfully isn't preachy. @Siva_Kartikeyan in terrific form.
Ramnath Shankar:
#Velaikkaran : A true gem of a movie!! Dialogues are extraordinary and an amazing research has been done which is clearly shown in the movie ! Bgm by @anirudhofficial congrats to the entire cast for their splendid acting 4/5 ! @Siva_Kartikeyan @jayam_mohanraja @24AMSTUDIOS
#Velaikkaran 1st half : Dialogues are amazing in the movie followed by the fab performances of @Siva_Kartikeyan ,@iamvijayvasanth ! @prakashraaj excels in his negative shade ! Bgm by @anirudhofficial elevates the movie to a new high !!Good so far @24AMSTUDIOS @jayam_mohanraja
Jana:
Socialism,Marketing,#விசுவாசம் all covered in an interesting way.Good core story.#Shiva stole the show.bgm is not bad.#Fahad as villan was brilliant.A bit of editing would have been great.#Velaikkaran a good social Entertainer.
Ajay V:
#Velaikkaran Interval - Inconsistent pace is an issue so far. @anirudhofficial BGM is top notch. Cinematographer Ramji has supported director's vision superbly through rich visuals be it corporate or slum.
RJ Balaji:
#Velaikkaran is a film with strong content.Shear hardwork of Mohan Raja, RD Raja & their teams,earnest performance of Siva,Fahath & Nayan and ever dependable Aniruth have made this film into a wholesome entertainer. You'll definitely like this film for what it conveys.
Sathish Kumar M writes:
#Velaikkaran second half becomes quite preachy with lots and lots of message oriented dialogues. Absolutely no commercial compromises in the second half, as director has tried to convey lots of messages to the society with @Siva_Kartikeyan
#Velaikkaran @Siva_Kartikeyan utters a word #Viswasam in the second half . Thala fana roars for few minutes. This clearly reflects both Thala & Thalapathy fans supports #SivaKarthikeyan
#Velaikkaran First half- Dialogues at its best. Excellent research done on Marketing by @jayam_mohanraja Lots of claps for the message oriented reality dialogues. Easily, the best ever performance for @Siva_Kartikeyan in his career
Kaushik LM:
#Velaikkaran - #Fahadhfaasil's Tamil diction was grt, with minimal Malayali slang He has his unique, sophisticated acting style. Loved his no-nonsense intro scene Felt the twist in his role could've been handled with more suspense. But substantial part 'almost' till the end!
#Velaikkaran - A proven star doing a film with no commercial compromises (except the #Iraiva song in the 2nd half) is commendable. @Siva_Kartikeyan no forced ladies/kids sentiment, no forced punchlines, no separate comedy tracks, no mass fights! Dir @jayam_mohanraja in control
#Velaikkaran - My rating 3.25/5. Very good 1st half & an okish 2nd half.
Arun Raghavan:
#Velaikkaran - If it was Jayam Ravi and Arvind Saamy in TO, It's @Siva_Kartikeyan and Fahad here. Stellar show from both. For those of you who were looking for the Actor in SK #Velaikkaran is for all of you @24AMSTUDIOS
Rajasekar:
Halfway through #Velaikkaran but I can confidently say that @Siva_Kartikeyan has given his career best performance . @jayam_mohanraja excels once again with his meticulous research.
#Velaikkaran is an extended version of #ThaniOruvan from @jayam_mohanraja. @Siva_Kartikeyan scores big time as a performer in this intense message oriented thriller
Surendhar MK:
#Velaikkaran: The only grouse in the film is the overstretched second half, where Raja makes us wonder whether he bit off more than he could chew. Although he carefully treads the path between majorly thoughtful and slightly preachy, the length of the film remains a worry.
#Velaikkaran: Easily, @Siva_Kartikeyan's career best performance. From keeping the comedian in him under control to emoting with measured expressions, he has delivered a peachy role. #KaruthavanlaamGaleejaam's choreography is pure joy and Siva leads the pack superbly.
#Velaikkaran: @jayam_mohanraja deserves a pat on the back for making a relatable film that make audiences connect and think. After #ThaniOruvan, he earns respect once again with an interesting subject matter. Another filmmaker who walks the talk.
#Velaikkaran is a well-researched, proper mainstream film. Insightful & shows the mirror to each one of us. Too much is rolled into the film, nevertheless a recommended watch. @Siva_Kartikeyan makes a convincing first attempt to sail through a serious subject with great ease