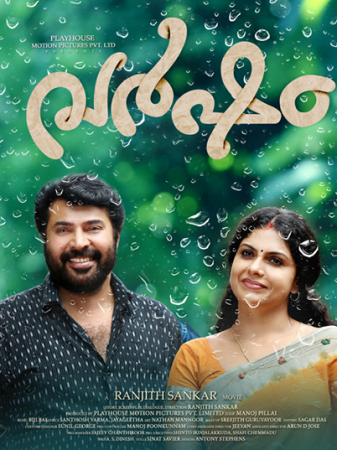 Mammootty's much awaited movie of the year "Varsham" has opened in theatres with a bang. The film has managed to impress critics and is now reviewed as one of the best Mammootty starrer.
Most of the reviewers claim that the performances of the actors carry "Varsham" from beginning till the end. The direction, scripting and screenplay by Ranjith Sankar have received positive reviews.
The story of "Varsham" revolves around Venu, who runs a private money lending company and leads a happy family life. Unlike other money lenders, Venu has a good reputation because of his goodwill and his popularity has also earned enmity among other money lenders. One unfortunate incident turns Venu's life upside down and the rest of the film talks about how Venu handles the situation, which is filled with complexities.
"Varsham" also has Asha Sarath, Master Prajwal Prasad, Mamta Mohandas, Govind Padmasurya, Sunil Sugatha, Sudhir Karamana, Harish Perady, Jayaraj Warrier, Irshad, Sajitha Madathil, Sarayu, Shivaji Guruvayoor, Sreelatha Namboothiri, Vinod Kovoor and Shabin in pivotal roles.
The cinematography of the Mammootty starrer is handled by Manoj Pillai and the editing is done by Sagar Das. The music is composed by Bijibal and the lyrics are penned by Santhosh Varma and Jayageetha.
This family entertainer is produced by Mammootty under the banner of Play House Motion Pictures Pvt Ltd.
Here are the reviews of "Varsham" by various critics.
"As claimed by the director Varsham is highly dependent on Mammootty and he delivers it with ease. Mammootty who was more on subtle characters of late, comes up with an intense and expressive performance this time. Few scenes resembles us the vintage Mammootty. Overall a brilliant performance. Asha Sharat is good as Venu's wife but looked artificial in the beginning because of a clichéd characterisation. Mamta, T.G Ravi, Vinod Kavur are good in their roles. The rest of the artists are fine." – Cineshore.com
"The direction was good from Ranjith Sankar. Adding more practicality in that first song would have made it more beautiful. The humor level has shown a good increase from Punyalan Agarbathis onwards and there are many humorous conversations in the first half of Varsham. In those middle segments Mr. Sankar was successful in bringing the best out of Mammootty. Cinematography showed quality except for that first song. Nice music and background score. Edits were smooth."- Lensmenreviews
"Malayalam film industry has, of late, found some wonderful scripts and casting that go beyond the conventions it used to keep and follow. This change has a lot to do with the unorthodox performances of the newcomers in the industry and the comeback of talented film makers and serious scripts.The film is an authentic assertion of the universality of love, compassion and empathy. It appeals both to the ordinary film-goer as well as the cognoscenti. It is an unconventional film that stands out for thematic novelty and directorial skill. The film seems to have gone down well with the audience, tired of being fed stale fares by the mainstream Malayalam cinema." – India cinema reviews
"Ranjith Shankar; the brain behind 'Varsham'; who handled story, screenplay and direction needs a standing ovation. Through 'Varsham', the director of films like Passenger and Punyalan Agarbatties delivered his maximum till now. Manoj Pillai; who handled the camera done his job well. It was the visuals suiting the story; which brings the film to real life happenings. The scenes was perfectly edited by Sagar Das. Bijipal; who controlled the music department and the lyricists Santhosh Varma and Jayagita added a hike to the film."- Muyals.com
"Mammootty can take heart from the movie. It is one of his better characters of recent times. Though the actor in him is not challenged by the role, he gives a performance of controlled brilliance. Asha Sharath has got a role that allows her to give full expression to her histrionics and she is decent as Mammootty's wife. Master Nabeesh as the protagonist's son is convincing. Mamtha Mohandas who plays a doctor has done a fair job. T.G.Ravi is not exactly the arch villain we expected. Sunil Sukhada and Sajitha Madathil look repetitive. Sudheer Karamana, Hareesh Peradi, Govind Padmasuryra, Santhosh Keezhathoor etc. are part of the cast. 'Varsham' is akin to an impending rain, that never pours!"- Metromatinee