Simbu's "Vaalu" has opened to a good response at the Malaysian box office. The latest Tamil release has managed to beat biggies like Bollywood flick "Brothers" starring Akshay Kumar and Mahesh Babu's "Srimanthudu".
In its first weekend, "Vaalu" made a business of MYR 208,442 (Rs. 33.30 lakh) from 24 screens. The audience turnout was good for the Tamil film because it is Simbu's first release in three years. The movie is likely to retain the momentum for at least a week.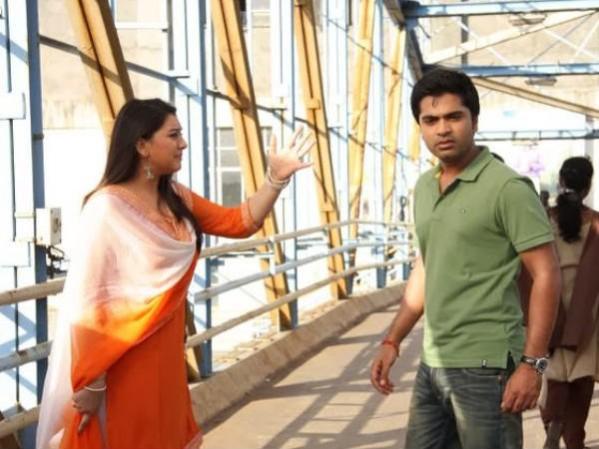 Arya's "Vasuvum Saravananum Onna Padichavanga" came a distant second among Indian films at the Malaysian box office. From 15 screens, it earned MYR 99,881 (Rs 15.95 lakh).
Bollywood movie "Brothers" could earn MYR 10859 (Rs 1.73 lakh) from three screens in its opening weekend. Traditionally, Bollywood films do not perform well at the Malaysian market.
Telugu movie "Srimanthudu" made a business of MYR 4764 (Rs 75,000) in its second weekend. The total business made by this flick at the Malaysian box office is Rs. 2.42 lakh.
"Bajrangi Bhaijaan", "Sakalakala Vallavan Appatakkar" and "Baahubali" are the other Indian films that are still being screened in Malaysia. The Salman Khan starrer movie has made MYR 257,266 (Rs 41.10 lakh), Jayam Ravi's film has collected MYR 338,551 (Rs 54.09 lakh) and the Tamil version of SS Rajamouli directorial has raked in MYR 1,107,188 (Rs 1.76 crore).
Coming back to "Vaalu", the film has done good business in other foreign territories. In the US, it has collected Rs. 18.79 lakh from 30 screens and in the UK/Ireland region, it has raked in Rs1.64 lakh.
Reports say that "Vaalu" has done exceptionally well at the Tamil Nadu box office. The good hype around the movie ensured a good opening weekend for the movie, say traders.