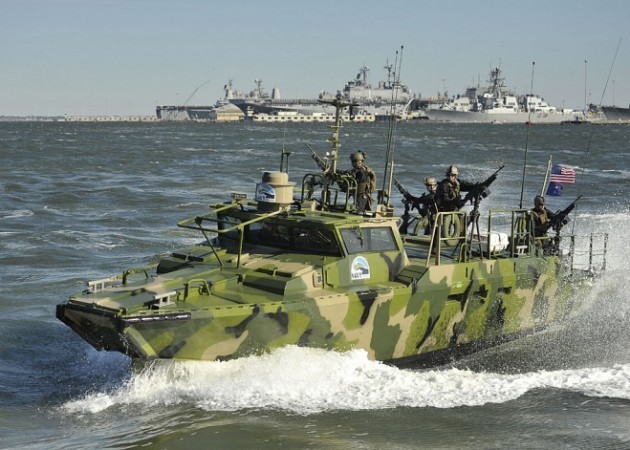 A security team from a US Navy ship fired on a small boat off the coast of Dubai on Monday, killing one Indian fisherman and injuring three others, a United Arab Emirates official said.
The USNS Rappahannock fired on the small boat after it ignored warnings and rapidly approached the ship near Jebel Ali, the US Navy said in a statement.
"In accordance with Navy force protection procedures, the sailors of US Navy ship used a series of non-lethal, preplanned reactions to warn the vessel before resorting to lethal force," the statement read.
The sailors constantly warned the small boat operator for their deliberate approach towards the US ship. But when the operator failed to return, the security team on the ship fired several rounds from a .50-calibre machine gun.
The US Navy said that they are currently investigating the incident.
The incident took place at 2:50 p.m. local time near Jabel Ali, a port town located at about 30 miles southwest of Dubai in the United Arab Emirates. The port town is frequently visited by US Navy ships.
Two UAE officials told ABC news that four Indians and two Emirati nationals were on board the boat, and also said they have identified the Indian fisherman who was killed in the firing.
The man has been identified as Sekar of Periyapattinam in Ramanathapuram district, Tamil Nadu, according to Karaiyur Fishermen Association President Malairajan.
The three injured have been identified as Muniraj, Panpuvan and Murugan, who all hail from Ramanathapuram, Tamil Nadu. Among the three of them, Munira was admitted to hospital following bullet injuries.
According to Associated Press, the white-hulled boat was examined by UAE officials and police soon after the incident. The boat looked like a civilian vessel, which was about 30 feet (9 metres) long, had three outboard motors, and contained no military markings. Similar types of boats are mainly used for fishing in that region.
Meanwhile, the India government has asked UAE officials to register a case against the Navy ship. India has also asked for a detail report from its ambassador in Dubai about the incident.
External Affairs Minister SM Krishna has asked the Indian ambassador to make arrangements for the return of the fishermen's body to India and also provide medical care for the injured.
The US embassy has reacted to the incident and issued a statement condemning the attack.
"The embassy of the United States of America would like to convey its condolences to the families of the crew of a small motor vessel, which came under fire from the USNS Rappahannock on July 16, after the vessel disregarded non-lethal warnings and rapidly approached the US ship," the statement read.