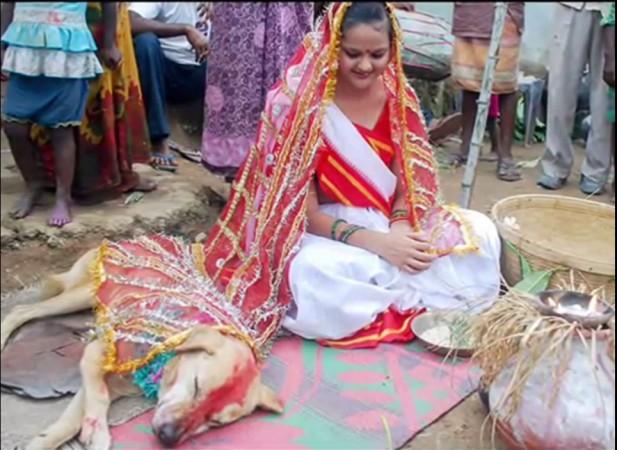 An 18-year-old girl was forced to marry a stray dog in Jharkhand to ward off an evil spell.
Mangli Munda, from a remote village in Jharkhand, was told by a local guru that she possessed bad luck. Following this, the villagers advised her parents to marry their daughter with a dog if they want to get rid of the spill, according to Mail Online.
The villagers believe that if the girl marries a dog, then her bad luck will be transferred to it. But if she marries a man, it would bring destruction to the family. Thus her parents made the wedding arrangements hastily.
Alike a groom, a dog named Sheru, who seemed confused, was brought to the ceremony in a car. The lavish wedding was attended by at least 70 guests, reported Deccan Chronicle.
The bride was not happy with the marriage, but said it was for her own good. Meanwhile, everybody enjoyed the wedding ceremony and all the customs were followed like proper marriages.
"Apart from the fact that the groom is a dog, we followed all customs. We respect the dog as much as we would respect a normal groom," said Seems Devi, mother of Munda, Mail Online reported.
"We had to spend money on this wedding in the same way as we would in a normal wedding. But that is the only way we can get rid of her bad luck and ensure the benevolence of the village."
Interestingly, this is not the first time such rituals are performed in India. Many villages still practice such bizarre rituals even these days.
According to Mirror, "Many weddings like this have taken place in our village and also the other neighboring villages. This is a custom that we thoroughly believe in," said Sri Amnmunda, Munda's father.
The villagers believe that when the evil spell get over the girl, she can marry her dream man without divorcing the dog.
Currently, the teenager will have to raise her husband (the dog) as a pet for next few months.
"I will marry a man one day. It is the dream of every girl to marry a prince charming. So I am also waiting for my prince," the bride said.
Watch the Video Below: