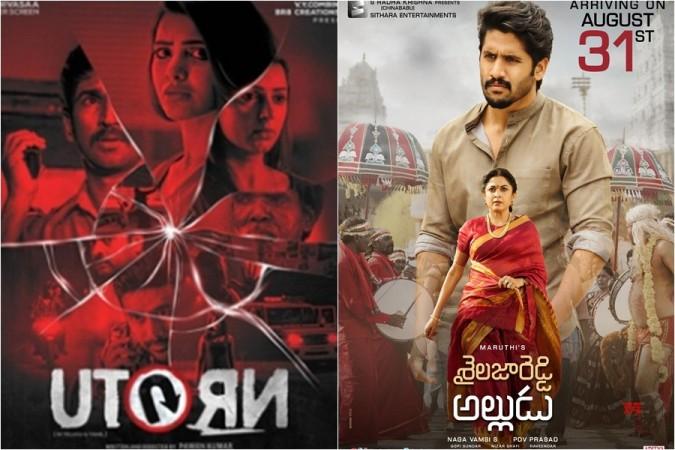 Actress Samantha Akkineni has opened up about the box office clash between U Turn and Shailaja Reddy Alludu (SRA) and expressed regret about locking horns with her husband Naga Chaitanya.
Samantha Akkineni's U Turn and Naga Chaitanya's Shailaja Reddy Alludu are slated for release on the same date, September 13. Their clash at the box office made many in the industry feel that both the films will eat away each other's share, as the fan of Akkineni family will be split between the two. The question about this clash is the highlight of most of the interviews of both the actor and actress.
In an interview, Samantha Akkineni spoke about their clash and said that it was unavoidable. "It is a bit stressful that both Chay and my films are coming on the same date. As U-Turn is also releasing in Tamil simultaneously, things were planned in such a way that it was hard to change the release date," 123Telugu quoted the actress as saying.
Samantha Akkineni wished that both U Turn and Shailaja Reddy Alludu will be hit at the box office. The actress added, "All I want is both the films need to be superhits at the box office. Personally, as a wife, Chay's happiness is more important than anything and that is the reason I am even stressed out this time."
Meanwhile, Samantha praised her Naga Chaitanya for his support. "For any working woman to be successful, her husband's support is a must. In that case, Chay's support is just imaginable. He is the one who is pushing me to do different things in my career. For that matter, the entire Annapurna Studios family has been supporting me in all my endeavors which is such a rare thing these days," She said.
U Turn is a Telugu and Tamil remake of 2016 Kannada mystery thriller film. Pawan Kumar, who has written, produced and directed the original version, has helmed its adaptations the promos of which have created a lot of curiosity among the film goers. Samantha, who is essaying the role played by Shraddha Srinath, says that Pawan has made several changes in its remakes to suit the local taste.
Samantha said, "The moment I saw the original, I felt that this film needed a larger audience. Also, I wanted to work with the director Pawan for a long time. Coming to the remake, we made several changes from the original to suit the Telugu nativity. The last 20 minutes will be quite thrilling and is completely new from that in the original."