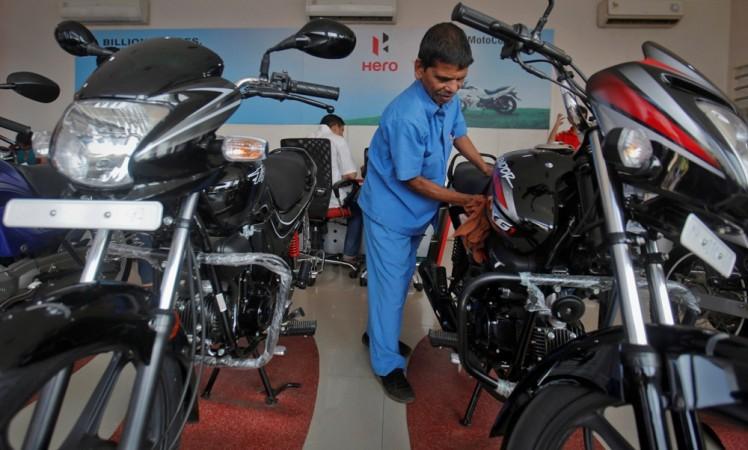 India has recently overtaken China to emerge as the world's biggest market for two-wheelers. Nearly 48,000 two-wheelers are sold every day in India.
Here are the details of the bike makers' performance in August 2017.
Hero MotoCorp
Two-wheeler major Hero MotoCorp reported its highest-ever sales for any single month in August 2017. Two-wheeler sales of the company rose by 10 percent to 678,797 units from 616,424 units sold in August 2016. The company's previous highest in monthly sales was recorded in September 2016 when it had sold 674,961 units.
Honda 2Wheelers India
Honda Motorcycle & Scooter India Pvt. Ltd. (HMSI) has created a new record in August by breaching six lakh sales mark in a single month for the first time. HMSI's sales grow 26 percent from 4,92,368 units in August 2016 to 6,22,180 units last month.
Honda's motorcycles sale closed at 1,91,944 units last month with 48 percent growth over 1,29,926 units sold in August 2016. Scooter sales, on the other hand, grew 17 percent from 3,36,363 units in August 2016 to 394,229 units in August 2017.
Bajaj Auto
Pune-based Bajaj Auto's domestic sales increased marginally at 2,00,659 units as against 2,00,314 units in the same month last year. Domestic motorcycle sales were at 1,71,664 units last month as compared to 1,74,719 units in August last year, down 1.75 percent.
India Yamaha Motor
India Yamaha Motor Pvt. Ltd. has registered a growth of 4 percent in domestic sales (including Nepal) during August 2017 as compared to the corresponding period last year. The Japanese company clocked domestic sales of 77,887 units in 2017 compared to 74,868 units in 2016.
TVS Motor Company
TVS Motor Company registered a domestic two-wheeler sales growth by 13.2 percent increasing from 2,38,984 units in August 2016 to 2,70,544 units in August 2017. Scooter sales of the company grew by 49.3 percent from 76,572 units in August 2016 to 1,14,354 units in August 2017. Motorcycles registered sales of 1,11,927 units in August 2017 as against 1,14,195 units in August 2016.
Royal Enfield
Royal Enfield, the two-wheeler division of Eicher Motors, reported a 21.99 percent increase in total sales at 67,977 units in August 2017. In the same month last year, the Chennai based automaker had sold 55,721 units, Eicher Motors said in a statement.