Seven persons were injured in two back-to-back blasts in the Narwal area of Jammu city on Saturday morning. The injured were shifted to Government Medical College Hospital Jammu for treatment.
Quoting Additional Director General of Police (ADGP) Jammu zone Mukesh Singh a news agency reported that blasts occurred in the transport yard of the Narwal of Jammu city near the Jammu-Srinagar national highway.
The whole area has been cordoned off and the injured evacuated to the hospital. Additional forces have been rushed to the Narwal area.
Eyewitnesses told the International Bussiness Times over the phone that the first blast occurred between transport yards numbers 3 and 7. The first blast was of low intensity but all seven persons were injured in the first explosion.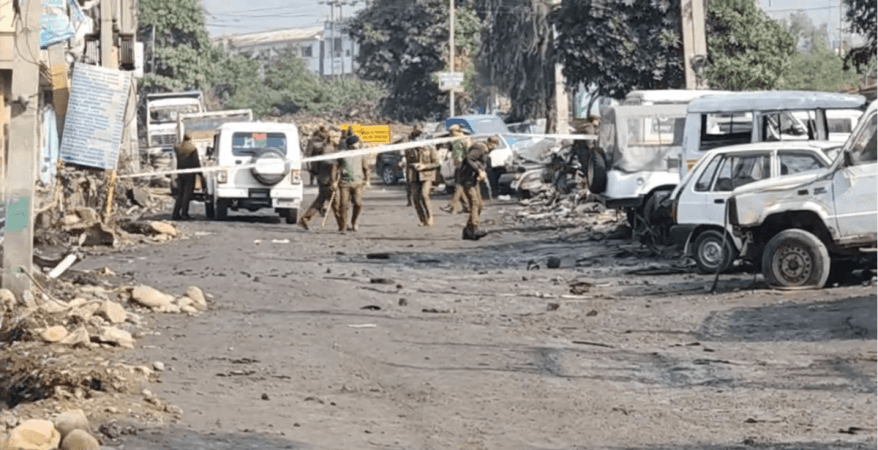 "As soon as some locals reached the spot along with a team of police, another blast with high intensity took place just near the spot of the first explosion", eye-witnesses said and it was a narrow escape for cops and locals as the blast occurred a few metres away from the area where people were gathered.
Narwal area is a hub of commercial activity and remains busy throughout the day with people owning vehicles of all types visiting the place for repairs and maintenance
All injured are local mechanics
Reports said that all the injured were local mechanics who were standing near the spot where the first blast took place. They were immediately evacuated and shifted to the hospital.
List of Injured in twin blasts
Sohail age 35 years son of Mohmmad Iqbal of Ustaad Mohalla Jammu.
Sushil Kumar age 26 years son of Ramesh Kumar of Prem Nagar, Doda.
Vishap Partap age 25 years son of Babu Singh of Kanachak Jammu.
Vinod Kumar age 52 years son of Kaku Ram of Chak Baktawar RS Pura.
Arun Kumar, age 25 years, resident of Qasim Nagar Jammu.
Amit Kumar age 40 years son of Gulshan Kumar resident of Bahu Fort Jammu.
Rajesh Kumar age 35 years son of Darshan Lal resident of Bahu Fort Jammu
Superintendent of Government Medical College and Hospital Jammu Dr. Narinder Bhatiali said that seven injured in the blasts are being treated at the hospital. "Surgery is being performed on one of them, who suffered splinter injuries in his stomach", he said.

Earlier JeM terrorists were arrested from the Narwal area
In November 2022, Jammu Police had busted a terror module of Jaish-e-Mohammad and arrested three operatives from the Narwal area recovering a rich haul of arms and ammunition. Terrorists were trying to transport these arms and ammunition Three persons namely Mohammad Yaseen of Puchil Pampora, Farhan Farooq, and Farooq Ahmed of Drangbal Pampore were arrested by the police.
After sustained interrogation, the driver Yaseen disclosed that they had come to Jammu to pick up weapons on the instructions of Shahbaaz, a handler of JeM, who is in Pakistan and subsequently had to hand over the weapons to a terrorist in Valley.
Yaseen also confessed that he has concealed a consignment of arms and ammunition in the oil tanker.