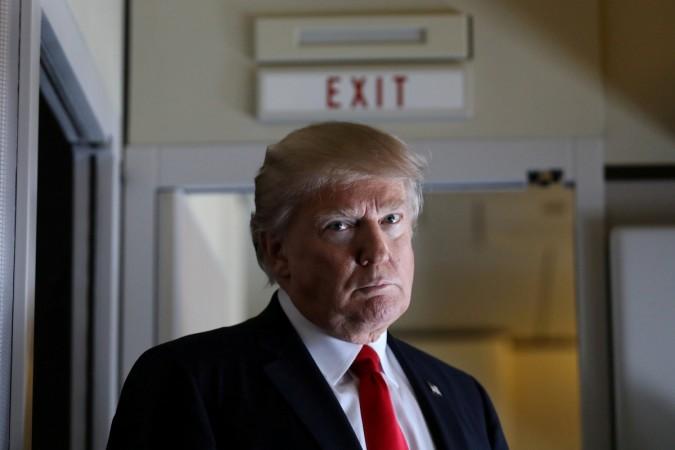 United States President Donald Trump finally broke his silence on former Federal Bureau of Chief (FBI) Director James Comey's testimony before the Senate on Thursday morning, calling him a "leaker."
In an early morning tweet on Friday, Trump said he has been "vindicated" by the Comey hearing.
The US President's prolonged silence on social media following Comey's public testimony was unusual, considening the Republican's renowned verbosity on Twitter. Trump has not been tweeting anything since June 7.
"Despite so many false statements and lies, total and complete vindication... and WOW, Comey is a leaker!" Trump posted on Twitter.
Despite so many false statements and lies, total and complete vindication...and WOW, Comey is a leaker!

— Donald J. Trump (@realDonaldTrump) June 9, 2017
Comey gave a public testimony to the Senate Intelligence Committee on June 8, stating that the US President had asked him to drop an investigation into former national security adviser Michael Flynn, as part of the broader Russia investigation.
Trump had fired Comey on May 9, in a move suspected by many as an attempt to put curbs on an ongoing investigation into White House officials. Comey was overseeing a federal investigation into possible collusion between Trump's campaign and Russia's alleged involvement in the 2016 US Presidential election.
The US President had cited his dissatisfaction with Comey's handling of the Hillary Clinton email scandal as the primary reason for his sacking.
In his testimony, which continued for more than two hours, Comey told lawmakers that the Trump administration had lied and defamed him and the Federal Bureau of Investigation after the president dismissed him on May 9.
When asked whether Trump sought to obstruct justice by asking him to drop the FBI probe, Comey said that it was now on special counsel Robert Mueller to "sort that out."
"I don't think it's for me to say whether the conversation I had with the president was an effort to obstruct. I took it as a very disturbing thing, very concerning," Comey testified.