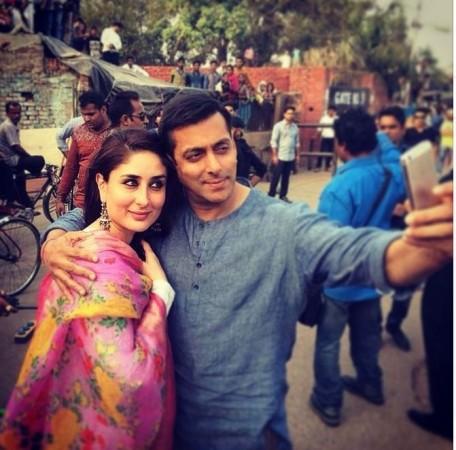 Salman Khan's much awaited film "Bajrangi Bhaijaan" with director Kabir Khan will release during Eid 2015, but the makers might release the trailer of the film in January.
The trailer of "Bajrangi Bhaijaan" was supposed to release with Aamir Khan's "PK" to give a treat to Salman's fans on his birthday, but the makers decided to postpone the launch date.
Both Salman and Kabir felt that it's not a good idea to attach the trailer of their film with "PK".
However, a latest report suggests that the first look of the film, also starring Kareena Kapoor Khan, will be released with Arbaaz Khan's movie "Dolly Di Doli".
"Though it's all tentative, but Kabir and Salman are considering attaching the first look of the film with Dolly Di Doli. However, a good chunk of the film is still left and it would still be a bad marketing strategy to release the first look 6 months in advance. Let's see, it's all still in talks," a source close to the film told The Times of India.
Kabir had previously said that he might release the first look by January end. And since "Dolly Di Doli" is releasing on 23 January worldwide, they thought of attaching the trailer with that film.
"Kabir had in fact once mentioned that the first look can be ready to be revealed sometime end January and Arbaaz's film seems like just the right cue," the source explained.
Meanwhile, expectations from "Bajrangi Bhaijaan" is very high as it marks the comeback of "Ek Tha Tiger" hit jodi Salman and Kabir. The fact that the film is set to release on Eid adds to the hype.
The film also features Nawazuddin Siddiqui in pivotal roles.