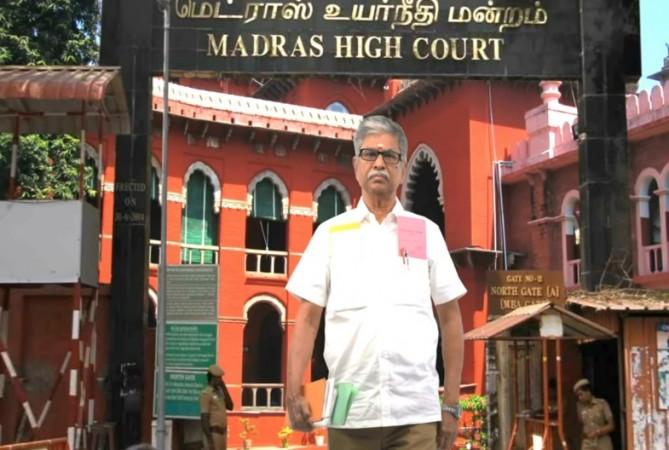 SA Chandrasekar's Traffic Ramaswamy tells the story of an activist of the same name. The Tamil movie is about the journey of a man, who took courageous stands against the flaws in the system even at the cost of physical attacks and death threats.
Traffic Ramaswamy is an 84-year old public interest litigator and social activist from Tamil Nadu. He earned the prefix for volunteering as a traffic policeman, highlighting the issues pertaining to traffic. Any issue bothering public never failed to get his attention and he fought the issues single-handedly through the PILs.
He was physically assaulted on numerous of occasions and once even in the premises of Madras High Court. It is said that the activist has filed the maximum number of cases at Madras High Court in the state.
In his long battle with the system, Ramaswamy has tasted success in many issues and notably when he filed a PIL on banning motorised fish carts.
His inspiring journey is brought to on-screen by Vicky, who has cast his mentor SA Chandrasekar in the titular role. Prakash Raj, Ambika, Manobala, RK Suresh and many others are in the cast. Actress Rohini has enacted the role of Ramaswamy's wife.
Seeman, Khushboo, Vijay Anthony, Sundar and Kasturi have done special appearances in Traffic Ramaswamy. The movie has Balamurali Balu's music, Kugan S Palani's cinematography and Prabaahar's editing.
Reviews:
Here, we bring you the live audience review of Traffic Ramaswamy.
Prashanth Rangaswamy: Watching #Trafficramasamy - Simple movie , making feels amatuer at many places, But the movie moves you genuinely - Especially the dialogues about police and Judiciary. Highlight is S. Ve.Skeher as Judge advising people to abide law . At the interval.
45/100 , If you want to make a biopic, Make it with upmost sincerity. Or just do not make it at all!!
Ambiga is a Judge in the movie and she in one scene takes AK 47 from her Guard and tries to shoot a minister. Keta reality padam. #Trafficramasamy
Rajasekar: #TrafficRamasamy - A potential storyline wasted by young filmmaker Vicky, except for the Traffic Ramasamy look alike SAC, nothing works in this amateurish attempt. Guess to know about Traffic Ramasamy, 'One Man Army' book is more than sufficient.