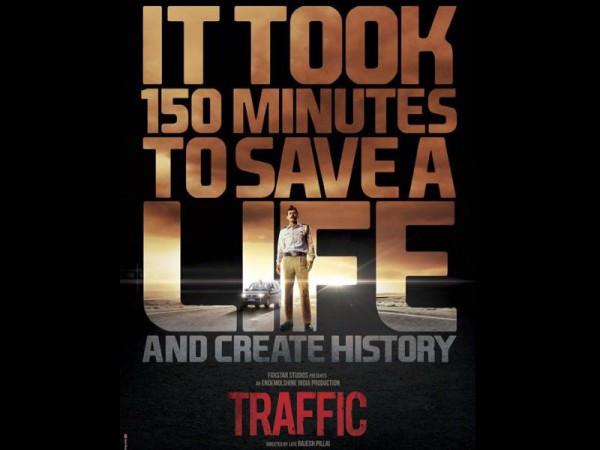 Malayalam thriller "Traffic" has been remade in two regional languages, Tamil ("Chennaiyil Oru Naal") and Kannada ("Crazy Star"); the Hindi version, starring Manoj Bajpayee and a horde of other talented actors, opened in theatres on May 6.
Because I had watched the original film, I stepped into a theatre knowing what was in store and yet I was left squirming (occasionally) in my seat. Although the film does have some nail-biting moments, a few unnecessary scenes dilute the tension. Jimmy Shergil as the police commissioner is convincing in bits, but would have liked it better if he didn't get too cheesy with words: "Mumbai ka traffic ek makdee ka jaal hai doctor." Although there's no better way to put the city's traffic in words, I guess the monotone with which he mouths these lines is slightly bothersome.
An accident sets off a chain reaction, bringing together complete strangers and even uniting some. The crash leaves a few with hope, others with despair. The victim's (Vishal Singh) heart, if transported in time, will save the daughter of superstar Dev Kapoor (Prosenjit Chatterjee) and his wife (Divya Dutta). Constable Ramdas Godbole (Manoj) takes up the challenge, looking at it as an opportunity to restore somewhere lost respect.
A multi-narrative is meant to be engaging, and complementing it are the split-frames and cutaway shots. The background score plays along perfectly and enhances the urgency in the story. But what really makes the film special are the stellar performances.
Manoj as Godbole is hesitant, unsure and yet determined to deliver on his promise. Prosenjit presents a solid act as the helpless father and, at the same time, an arrogant, powerful public figure, who pulls a few strings to save his child. Divya isn't there much, but the scene in which she pleads to the brain dead patient's parents for the life of her daughter will make you shed a tear or two.
Director Rajesh Pillai, who didn't live to see his own film (he passed way earlier this year), was once again successful in recreating the thrill, but what dampens it on occasions is the fact that the film has been made too many times. Even if you are watching it for the first time, you would somehow know what it's all about; you are then left with lesser chances of being surprised.
While the story is a sure-shot winner and the idea is really brave, one question comes to mind: if the dying girl's father didn't have highly-placed friends and acquaintances, would people still come together, work in coherence to save a life? Food for thought.
With a run-time of 144 minutes, "Traffic" is a smoothly edited remake, but can get a little preachy with its messages.
International Business Times, India rating: 3 stars.