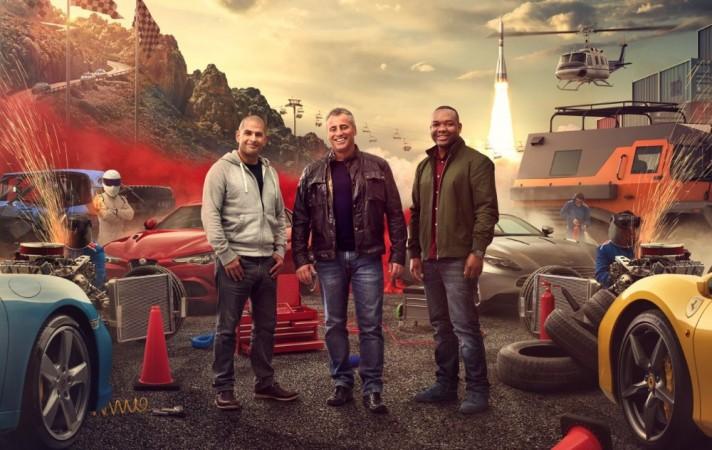 As BBC's decades' old motoring show Top Gear started roaring up with its new season, fans seemed to be doubtful about whether the series would be as poor as the last season. Ever since the Clarkson, Hammond, May were departed from the BBC show, the show remained highly unsuccessful.
Also read: BBC Top Gear Series 24 trailer released: LeBlanc drives Aston Martin DB11, Harris drifts Ferrari FXX K, Reid crashes taxi
The 2016 edition of the Top Gear was hosted by Matt LeBlanc, Chris Harris, Rory Raid and so will the 2017 edition or season 24. Meanwhile, many fans seem not to be happy with the trio, but a group of loyal fans still remain hooked to the series. And, the new season has not disappointed them.
As the episode 4 of this season got aired on Sunday (March 26), the fans instantly began praising the show on Twitter, while mentioning the recent episode as one of the best ever.
According to the official synopsis of episode 4, motoring journalist Chris Harris attempts to cross the Arabian Peninsula in a £2m Bugatti Chiron faster than Matt LeBlanc and his impressive Ducati 1299 Superleggera motorcycle. Back in Britain, Rory Reid constructs a life-size arcade game to test the Renault Twingo GT and its city car rivals, while rap star Tinie Tempah tackles the Top Gear track in the Reasonably Fast Toyota GT86.
Following the most recent episode, fans took to Twitter to praise it all over and rated it as one of the 'best ever' episodes. Fans started acknowledging that the series has finally found its long-lost success ever since the departure of former presenter trio.
Let's take a look at the twitter reactions:
Today's #TopGear was funny, creative and informative without twattish bullying or xenophobia. Who knew that was doable?

— Ed O'Meara (@edfomeara) March 26, 2017
So once again, to all those #TopGear haters who will never watch it again I guess we'll see you all same time same place next week ?

— Aubrey Davis (@aubreydav1s) March 26, 2017
Meanwhile, the new Top Gear presenter Chris Harris recently told The Sun that the team has been working hard to get fans back on board. He said, "It's a bit more car-orientated so the petrolheads are enjoying it. I want to still be the guy who drives the cars and demonstrates what they do. But equally, I now have to make television.
"I'm working alongside one of the best comedy actors of my generation and that can be pretty daunting. But he is super, super giving and very helpful."
It's the big one: Harris and the £2.5m Bugatti Chiron vs Matt LeBlanc and a roster of money-no-object vehicles. Your TG ep 4 preview is here pic.twitter.com/BxuEe6H2zw

— Top Gear (@BBC_TopGear) March 24, 2017