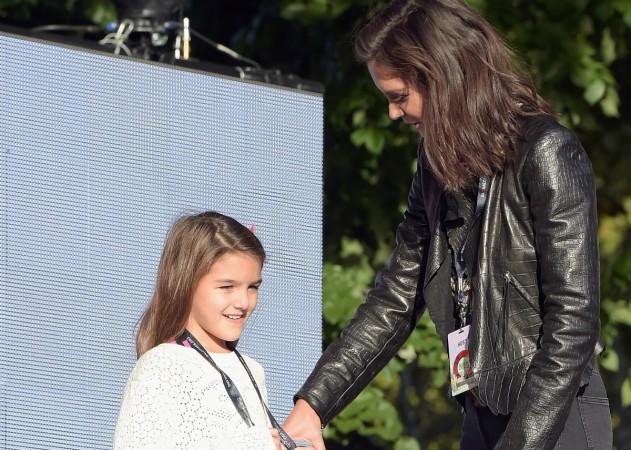 Tom Cruise and Katie Holmes' beautiful little daughter Suri Cruise could be making her acting debut soon. The 11-year-old, who is the apple of Cruise's eye, is reportedly entering Hollywood soon, following the footsteps of her actor parents.
According to National Enquirer, Holmes is not upbeat about Suri's decision to enter showbiz but she is supporting her anyway. "Suri is old enough now to start trying different things, so Katie's been tutoring her on all things thespian," the website's sources claim.
Also Read: Tom Cruise misses being with family; The Mummy actor to reconnect with daughter Suri Cruise?
The insider also stated that Holmes wants Suri to be known for her skills. "She [Holmes] wants Suri to be known for her skills, not her name or her looks – so she's also signed her up for one-on-one classes with a top-tier New York acting coach," the source explained.
"Suri is also getting singing and music classes. Katie figures if her daughter is going to do this, she should do it right," the insider added.
During the promotions of The Mummy, Cruise had hinted about Suri's future acting career. He told Sydney Morning Herald, "You never know, you never know," adding he was bitten by the acting bug from a young age.
So is the daughter following her dad's footsteps? And is daddy Cruise ready to launch her? Apparently not. Fans of junior Cruise have been asked to wait as the speculations of the daughter's acting debut might not be true.
National Enquirer's source's claims are said not to be true. Holmes' representative told Gossip Cop that Suri might not be seen showing off her skills anytime soon. The website writes, "Performing is obviously in the young girl's genes, so she could potentially catch the acting bug at some point in the future, but the 11-year-old isn't currently embarking on a career in the entertainment industry."
Suri has been spending time with her mother and her family in Ohio. The mother-daughter duo was seen posing with Holmes' huge family on the occasion of Katie's sister's birthday. Posting a group picture, Holmes wrote: "Happy Birthday to my beautiful, courageous, fun, funny, amazing sister!!!!!!! We love uuuuuuuuuu!!!!!!!"
Adorable little Suri was seen seated in front and centre giving her beautiful big smile for the camera.