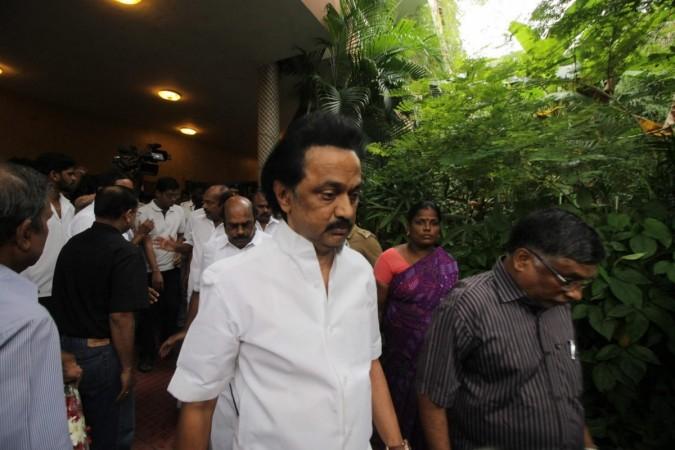 Dravida Munnetra Kazhagam (DMK), the Opposition party in Tamil Nadu, has announced a hunger strike on February 22 in all district offices of the party across the state. An FIR was registered against Stalin on Sunday a day after he protested at Marina Beach in Chennai against the ousting of DMK MLAs from the State Assembly on Saturday.
"I will participate in Tiruchi for the hunger strike on February 22," DMK's working president MK Stalin told reporters on Sunday. He added that the party is "trying to meet President Pranab Mukherjee in Delhi on this regard. We have sought time to highlight the Assembly situation."
DMK MLA Tiruchi Siva said that a memorandum had been submitted to Governor Vidyasagar Rao against the vote of confidence that took place in the state assembly despite the absence of the Opposition. "It is illegal," Siva told the media.
The party had submitted a letter to the Governor complaining against the eviction of DMK from the Assembly and requested that the session be postponed to enable secret voting, according to local media reports.
"The agenda of Speaker (P Dhanapal) is to go ahead with voting and announce that the Chief Minister has succeeded in getting the confidence of the House, in the absence of the DMK members. This is totally foul play and unconstitutional. Therefore, we request the Governor to restore democratic values and order postponement of the Assembly session for conducting secret voting on the Confidence Motion," the letter said.
Stalin was detained by the Tamil Nadu Police on Saturday after he sat on a hunger strike at Chennai's Marina Beach to protest against the alleged attack on him and DMK MLAs during the vote of confidence in the State Assembly.
Stalin described Saturday's events as a 'Black Day' for democracy and requested all those who wanted to "remove" the "anti-democratic" AIADMK government to join him. The working president accused the marshals in the Assembly of manhandling him and other DMK MLAs during the trust vote.
"It is a black day for democracy. This anti-people (AIADMK) government must be removed. Insisting that a peaceful protest is underway at the Marina. Those who want to remove this anti-democratic government should converge at the Marina," Stalin said in a statement.
He said that DMK had insisted on secret voting because the AIADMK MLAs were "held as hostage in a resort" and were "brought for voting under tight security and threat and that they will not be able to exercise their voting according to conscience and free will." But the Speaker did not agree to postpone the date.
AIADMK's Edapadi Palanisamy had won the vote of confidence by a comfortable margin of 122-11.
According to the police, DMK workers blocked traffic and also resorted to stone-pelting in different places across Tamil Nadu to protest against the alleged attack on Stalin. Government buses were damaged in several districts of Cuddalore leaving two people injured.