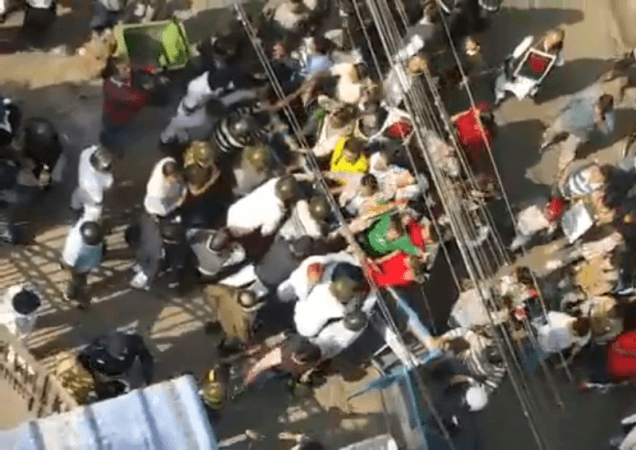 The feud between Trinamool Congress (TMC) and BJP grew stronger on Thursday, January 5, when Union Minister of State for Heavy Industries Babul Supriyo said he would file civil and criminal defamation cases against TMC MPs Saugata Ray, Tapas Pal and his wife Nandini Pal. He said he was already in talks with lawyers.
Also read: Rose Valley chit fund case: Alleged TMC workers set BJP's Hooghly office on fire
"I don't want to make an issue out of the attack on my house. Everyone's safe but attacking local BJP workers in West Bengal is wrong," Supriyo, who is also a singer-actor, said.
More than 100 TMC workers staged a protest outside Pearl Apartments, Supriyo's house in Kolkata, on Wednesday (Jan 4) demanding his arrest in connection with the Rose Valley chit fund scam. They reportedly gathered outside the house when Supriyo's parents were there. Policemen were already deployed in the location and barricades and guard rails were put up outside the main entrance of the apartment.
The TMC, the ruling party of the state, has come out with strong protests both in Bengal and the National Capital after two of its lawmakers, Pal and Sudip Bandyopadhyay, were arrested recently by the CBI in connection with the Rose Valley chit fund scam. The party, led by Bengal Chief Minister Mamata Banerjee, hit back at the Narendra Modi government at the Centre saying the arrests were made in retaliation to its resistance against the demonetisation drive.
Pal said last week that Supriyo was very close to the Rose Valley chairman Gautam Kundu to which the latter objected and threatened to take legal steps.
Wil be filing a separate case against Sougato Roy•Last night on LiveTV (News18), he said I am on RoseValley PayRoll&took crores of cash too

— Babul Supriyo (@SuPriyoBabul) January 5, 2017
The TMC supporters were also accused of attacking some BJP offices in Bengal, including the saffron party's headquarters in Kolkata, following the arrest of Bandypadhyay earlier this week.
Supriyo, who denied links with Kundu, also dared Banerjee to give proof that he was involved with the scam.
West Bengal BJP leaders are scheduled to meet Union Home Minister Rajnath Singh on Thursday to apprise him of the situation in the state.
"Protesting on the streets will not help. The fact that they are protesting so much will make people believe they have a lot to hide. These protests will not help," BJP leader GVL Narshimha said.
Supriyo also slammed the TMC government over cancellation of political commentator Tarek Fatah's talks on Balochistan scheduled in Kolkata.
"Tarek Fatah was to do a programme where people would participate. Didi is trying to rule like Hitler. Criminals and goon are close to Didi," Supriyo said.
TMC MPs also protested outside the Prime Minister's Office on Thursday over the arrests.