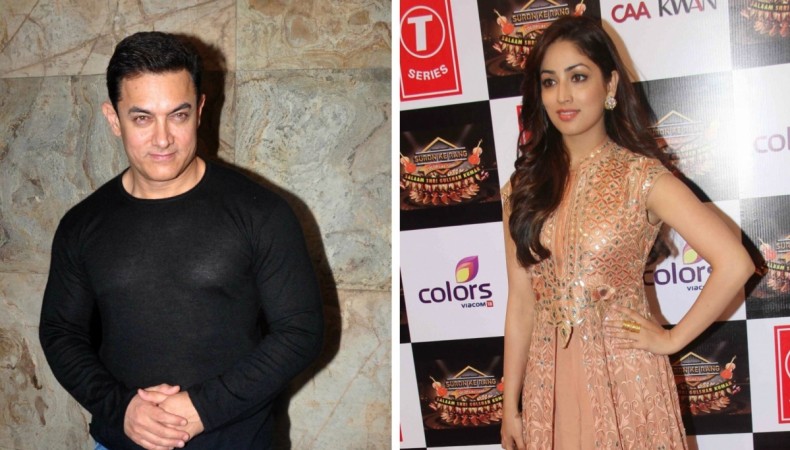 Aamir Khan has left behind Akshay Kumar, who saw a good run at the Times Celebex rating (February) until January. The "Dangal" actor was in news for his upcoming film, while Yami made headlines due to her latest flick "Sanam Re."
Aamir, who grabbed attention with his weight fluctuation for his film, also created buzz for his initiative with the Maharashtra government for water conservation. Yami, on the other hand, left Katrina Kaif behind at the Times Celebex rating (February), according to the Times of India.
She was also in news for her rumoured affair with her "Sanam Re" co-star Pulkit Samrat and was blamed for the actor's split with his wife. However, Pulkit clarified after the release of the film that the buzz was created as a publicity stunt.
People were also interested to read about Yami because she bagged Sanjay Gupta's "Kaabil" opposite Hrihtik Roshan and two brand endorsements. Akshay and Katrina, who topped the list at the Times Celebex rating (January) until December, went down to the fifth and fourth position, respectively.
Ajay Devgn is placed second, while Salman Khan and Shah Rukh Khan ranked third and fourth respectively. In the actresses' list, Shraddha Kapoor bagged second rank, while Priyanka Chopra and Sonam Kapoor were placed at the third and fifth position respectively.
Interestingly, Ajay jumped from sixth to second position in the new list and Amitabh Bachchan's ranking came down, who was ranked second in the previous list. Though he bagged several awards for "Piku," he slipped from the second to the ninth position.
Kangana Ranaut and Anushka Sharma's ranks also went down from third and fourth to seventh and eight, respectively. However, Deepika Padukone has been constant as she bagged the sixth position in the previous as well as the new list.
Check out the top 10 list here:
| | | | | |
| --- | --- | --- | --- | --- |
| Actors | Feb. Rank | Jan. Rank | Feb. Score | Jan. Score |
| Aamir Khan | 1 | 5 | 15 | 17 |
| Ajay Devgn | 2 | 6 | 14 | 16 |
| Salman Khan | 3 | 4 | 13 | 18 |
| Shah Rukh Khan | 4 | 3 | 12.5 | 18.9 |
| Akshay Kumar | 5 | 1 | 12 | 27 |
| Abhishek Bachchan | 6 | 11 | 11.7 | 11 |
| Aditya Roy Kapoor | 7 | 10 | 11.5 | 11.3 |
| Farhan Akhtar | 8 | 8 | 11 | 12.5 |
| Amitabh Bachchan | 9 | 2 | 9.5 | 25 |
| Varun Dhawan | 10 | 9 | 9.7 | 11.5 |
| | | | | |
| --- | --- | --- | --- | --- |
| Actresses | Feb. Rank | Jan. Rank | Feb. Score | Jan. Score |
| Yami Gautam | 1 | 5 | 23 | 17 |
| Shraddha Kapoor | 2 | 9 | 18 | 13.3 |
| Priyanka Chopra | 3 | 2 | 16.9 | 19 |
| Katrina Kaif | 4 | 1 | 16 | 21 |
| Sonam Kapoor | 5 | 10 | 15 | 13 |
| Deepika Padukone | 6 | 6 | 14 | 16 |
| Kangana Ranaut | 7 | 3 | 12.5 | 18 |
| Anushka Sharma | 8 | 4 | 12 | 17.9 |
| Ileana D'Cruz | 9 | 17 | 11.9 | 9 |
| Nargis Fakhri | 10 | 11 | 11.5 | 12.9 |