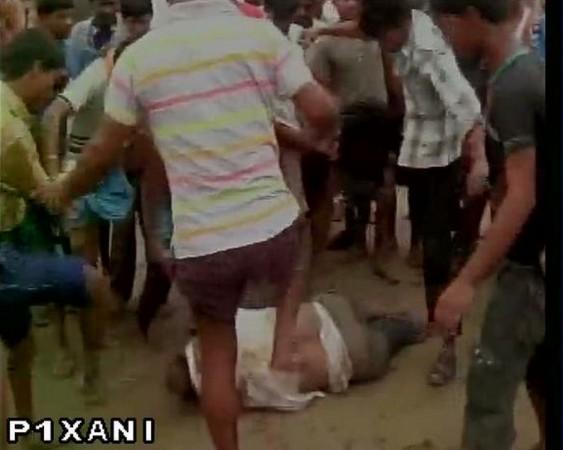 There is now a frightening prospect of getting randomly killed in the present-day India. You only had to look a little different from the demographic majority in any given corner of the land to deserve a mindless, brutal death on the road.
The latest in a horrid series of child-lifting lynchings nearly happened in Assam, where three sadhus were saved by the army and the police at the last minute.
Mobs who took WhatsApp videos of child lifters roaming around as true targeted a group of monks in their saffron robes, beards and unkempt hair. This happened at Mahur Railway Station in Dima Hasao district of Assam, PTI reported.
Apparently after the sadhus alighted from a train, the mobs rounded them up, mistaking them as child lifters they have been routinely watching in viral WhatsApp videos. Their belongings were thrown open, and the mobs then videographer them and shared the footage with other zealots on kill mission.
This was probably to check with expert child-lifting theorists as to whether these men fit the bill as suspects. The lynching was to have happened soon after.
The sadhus were, however, saved in the nick of time by the army and police personnel who had been at a nearby post. Fortunately, the trio were at a railway station that had a police aid post.
The report said the district administration and the police arranged an emergency meeting with the representatives of different communities who attended and urged them to act responsibly.
If only it was that easy. More than 20 people have lost their lives in the country in the last few weeks after WhatsApp fake videos warning of child-lifters became a raging sensation.
The most horrific of such events took place last week in Maharashtra's Dhule district, where villagers lynched five innocent men, accusing them of being child-lifters. In the week before that in Tripura, an NGO worker who was campaigning against lynchings was killed by the mobs. Rumour-driven lynchings happened in other states like Tamil Nadu, Gujarat and Uttar Pradesh as well.
In most cases, the "other" was easily targeted. Anyone who looked like a misfit in the very narrow definition of demographic identity can easily be the target! That's a graver threat to human life than plain old terrorism.
You should be lucky to live on in a country where mobs are free to vent their primitive, atavistic kill lust. Sadly a modern technology is their mighty ruse. A case of modern tech in the hands of .....?