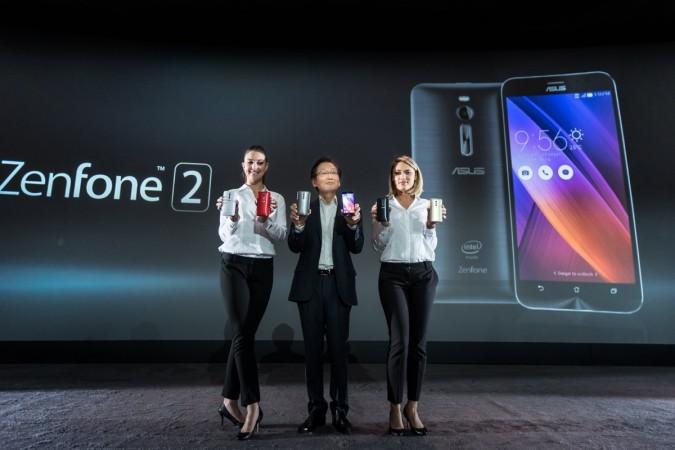 Taiwanese consumer electronics giant Asus has reportedly revealed the three variants of the flagship Zenfone-series smartphones, which are set for India release later this month.
The company, while hosting a pre-launch event for select media houses, confirmed that Asus will be releasing only the 5.5-inch display models in India on 23 April, reported NDTV Gadgets. This confirms that three-models -- ZE551ML (4GB), ZE551ML (2GB) and ZE550ML (with 5.5-inch HD) -- in all likely hood will be launched this month.
Contradicting to previous speculations, low-end variant -- ZE500CL (with 5.0-inch screen) -- won't debut in India on 23 April. But, that does not mean Asus will never release this model in the subcontinent. We like to believe that the company is likely to roll-out ZE5000CL in a different time frame later this year and replace the popular mid-range models- Zenfone 4 (A400CXG) & 5 (A501CG) series.
Asus Zenfone 2 series model details:
For the uninitiated, Zenfone 2 come in five variants and all are being currently sold in the Asus home market Taiwan.
Among them, ZE551ML series is the top-end model. It boasts of 5.5-inch full HD display and runs on the latest Android 5.0 Lollipop OS powered by 64-bit class based 2.3GHz Intel Atom processor Z3580 with PowerVR G6430 graphics engine, 4GB RAM and 16GB/32GB/64GB inbuilt memory and a 3000 mAh battery.
We like to remind that Zenfone 2 (ZE551ML) comes in a 2GB RAM/16GB memory model and 4GB RAM/32GB memory variants; the former model houses pretty much same specification seen in the above variant except the processor type. It houses a 1.8GHz Quad Core Intel Atom Z3560 with PowerVR G6430 GPU.
The latter model (4GB/32GB storage) comes with features seen in the first ZE551ML.
On the other hand, cheaper Zenfone 2 (ZE550ML) sports 5.5-inch HD screen and ships with 1.8GHz Intel Atom Quad Core Z3560 (1.8GHz) with PowerVR G6430 GPU, 2GB RAM, 16GB memory and a 3000 mAh battery.
Zenfone 2 (ZE500CL) is a low-end model among the lot. It features a smaller 5.0-inch HD display. Under the hood, it comes packed with 2GB RAM, 1.6GHz Intel Atom Z2560 processor and a 2500 mAh battery which can run the phone for close to 360 hours under standby mode.
Key specifications of Asus ZenFone 2 variants:
Model
Asus ZenFone 2 (ZE551ML)
Asus Zenfone 2 (ZE550ML)
Asus Zenfone 2 (ZE500CL)
Display

5.5-inch full HD (1920x1080p) IPS screen with wide 178-degree viewing angle. It also boasts of ASUS TruVivid display technology and is protected by Gorilla Glass 3 shield
Pixel density: 403 ppi (pixels per inch)

5.5-inch HD (1280x720p) IPS screen
5.0-inch HD (1280x720p) IPS screen
OS
Android 5.0 Lollipop OS with custom Zen UI
Android 5.0 Lollipop OS with custom Zen UI
Android 5.0 Lollipop OS with custom Zen UI
Processor
Model 1: 64-bit class based 2.3GHz Intel Atom processor Z3580 with PowerVR G6430 GPUModel 2: 1.8GHz Quad Core Intel® Atom ™ Z3560 with PowerVR G6430 GPU
1.8GHz Intel® Atom ™ Quad Core Z3560 (1.8GHz) with PowerVR G6430 GPU
1.6GHz Intel® Atom ™ Z2560
RAM
4GB/2GB
2GB LPDDR3
2GB LPDDR2
Storage
16GB/32GB/64GB (+ 64GB via microSD card)
16GB, expandable up to 64GB
16GB, expandable up to 64GB
Camera
Main: 13.0-megapixel camera with PixelMaster technology, Backlight (HDR) mode, f/ 2.0 aperture, Real Tone flashFront: 5.0-megapixel camera with 88-degree field of view and also comes with ZenUI Selfie Panorama mode which can capture panoramic selfies with up to a 140-degree field of view.
Main: 13.0-megapixel camera with PixelMaster technology, Backlight (HDR) mode, f/ 2.0 aperture, Real Tone flashFront: 5.0-megapixel camera with 88-degree field of view and also comes with ZenUI Selfie Panorama mode which can capture panoramic selfies with up to a 140-degree field of view.
Main: 8.0-megapixel camera with LED flash, f2.0 aperture,Front: 2.0-megapixel camera
Battery
3000 mAh;Comes with fast-charge technology where-in phone can get re-charged close to 60-percent battery capacity within 39 minutes
3000 mAh;Comes with fast-charge technology where-in phone can get re-charged close to 60-percent battery capacity within 39 minutes
2500 mAh;Talk time: up to 28 hours;Standby time: close to 360 hours;
Network & Connectivity
4G-LTE (Cat 4: 150/50 mbps), Wi-Fi (802.11ac), Bluetooth, dual-SIM slots (type: micro)
4G-LTE (Cat 4: 150/50 mbps), Wi-Fi (802.11ac), Bluetooth, dual-SIM slots (type: micro)
Single-SIM slot, 2G/3G/LTE(CAT3) 4G: 700/900/1800, GPS/GLONASS,
Add-ons

ZenMotion is a collection of intuitive touch gestures, each providing a new way of interacting with ZenUI, and allowing quick and easy access to frequently-used features such as One Hand mode or Do It Later.
SnapView is a security feature that ensures privacy for apps, photos, and files. SnapView lets users easily keep their personal and business information separate.
Trend Micro security is integrated with the ZenUI browser for the total mobile web browsing security.
ZenUI Instant Updates is a seamless new method of keeping ZenUI apps up to date. With ZenUI Instant Updates, ASUS app developers can make updates available immediately, avoiding delays between app releases and ensuring the best experience for ZenFone 2 users.

ZenMotion is a collection of intuitive touch gestures, each providing a new way of interacting with ZenUI, and allowing quick and easy access to frequently-used features such as One Hand mode or Do It Later.
SnapView is a security feature that ensures privacy for apps, photos, and files. SnapView lets users easily keep their personal and business information separate.
Trend Micro security is integrated with the ZenUI browser for the total mobile web browsing security.
ZenUI Instant Updates is a seamless new method of keeping ZenUI apps up to date. With ZenUI Instant Updates, ASUS app developers can make updates available immediately, avoiding delays between app releases and ensuring the best experience for ZenFone 2 users.

ZenMotion is a collection of intuitive touch gestures, each providing a new way of interacting with ZenUI, and allowing quick and easy access to frequently-used features such as One Hand mode or Do It Later.
SnapView is a security feature that ensures privacy for apps, photos, and files. SnapView lets users easily keep their personal and business information separate.
Trend Micro security is integrated with the ZenUI browser for the total mobile web browsing security.
ZenUI Instant Updates is a seamless new method of keeping ZenUI apps up to date. With ZenUI Instant Updates, ASUS app developers can make updates available immediately, avoiding delays between app releases and ensuring the best experience for ZenFone 2 users.

Dimensions
152.5 x 77.2 x 3.9 ~ 10.9 mm
152.5 x 77.2 x 3.9 ~ 10.9 mm
148.1 x 71.5 x 10.9 ~ 3.9 mm
Weight
170 g
170 g
155 g
Colours
Red / gray / black / white / gold
White and black
Red, white and black
Price (In Taiwan New Dollars)

4GB RAM/64GB memory model (ZE551ML): TWD 9990 (around $316/€298/₹19,850)
4GB RAM/32GB memory model (ZE551ML): TWD 8,990 (around ₹17,900)
2GB RAM/16GB memory model (ZE551ML): TWD 6,990 (around ₹13,900)

TWD 5,990 (around ₹11,900)
TWD 4,990 (around ₹9,930)