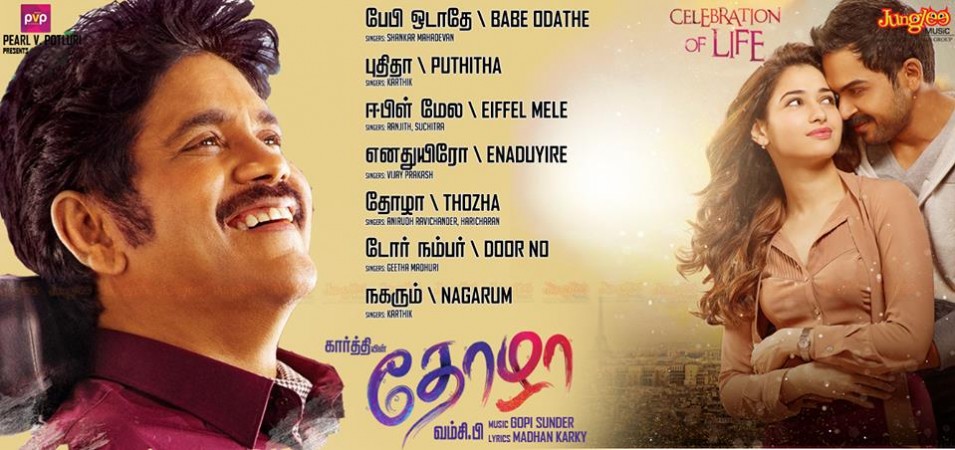 Not always does a movie win appreciation from critics as well as the audience. Nagarjuna, Karthi and Tamanna Bhatia's "Thozha" is one such film that has garnered positive reviews from both the sections.
"Thozha" is a remake of French movie "The Intouchables." The South Indian version has been directed by Vamsi Paidipally. The movie is about the bond between a carefree boy with a criminal background played by Karthi and a paraplegic billionaire (Nagarjuna.)
Disowned by his family for committing petty crimes, Seenu (Karthi) finds a job as the caretaker of Vikramadithya (Nagarjuna), who is paralysed neck-below. The luxurious house and charming secretary (Tamanna Bhatia) of the billionaire attract him to take up the job. The remaining part of the film is about how the two different characters learn life lessons from each other.
The director has retained the soul of the original story and this factor has been praised by the critics. Nagarjuna's flawless performance, Karthi's brilliant acting with Tamanna's beautiful looks have also been lauded and it must be mentioned that the cinematographer's colourful visuals added more charm to the flick. Below, read the critics' reviews:
Hindustan Times Review: Vamsi retains all these in Thozha, but builds up a screenplay that loses sight of the fact that this is, above all, a film about two men and how they bond over wheels. Songs and dramatic familial squabbles -- involving Seenu (played by Karthi who reprises Sy's role), his foster mother, sister and brother -- not just distract us from the core narrative but also seem like a drag.
Deccan Chronicle Review: Kudos to director Vamsi for not indulging in commercial trappings except for a clichéd item song! He has also not gone overboard with sentimental scenes.
NDTV Review: The casting is good. Music by Gopi Sunder comes in as a decent work with the title track ticking the list. Cuts by Praveen KL are impressive, especially the sequences in Paris.
The Times of India: Director Vamshi sticks to the structure of the original and this largely helps his film because more than story and plot, this is a film that is about its lead characters.
DNA Review: Thozha is an emotional drama that celebrates bromance. It's meant for those who want to go on an emotional rollercoaster and come out smiling.
The Hindu Review: Throughout Thozha, we get the sense of a certain sensibility being respected even as certain concessions to local audiences are being made.