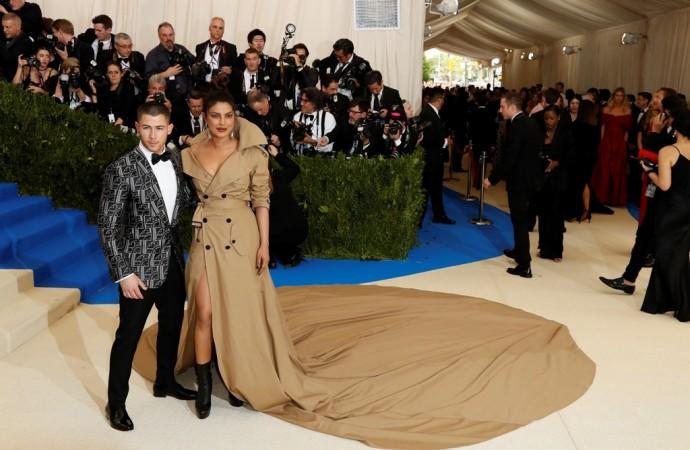 Is there a new couple in town? Looks like it! Bollywood-Hollywood actress Priyanka Chopra and singer Nick Jonas are leaving all kinds of hints.
After they were spotted on a football date together, Priyanka and Nick seem to be at sea as a few photos from their getaway ooze romance.
In the photos that are going viral, Priyanka is seen in the arms of Nick almost cuddling as the sun kisses them. The duo, joined by their friends, are wrapped up in a huge blanket while posing for the picture. PeeCee is seen wearing a yellow sweatshirt and sunglasses whereas Nick is sporting a grey T-shirt, a baseball cap and sunglasses.
Another photo from their holiday shows the Baywatch actress enjoying a sumptuous spread seated beside Nick on an evidently windy day as Priyanka is seen trying to grab hold of her hair while posing for the picture.
The sudden bonding has got everyone suspicious and fans of the two celebrities are trying to decode what's cooking between the two.
Priyanka and Nick were first seen together last year at the MET Gala. While Priyanka's trench coat became the talk of the town, speculations about something brewing between the actress and singer were also making the rounds.
When Priyanka appeared on Jimmy Kimmel Live!, TV show host Jimmy Kimmel asked her how she ended up attending the MET with Nick Jonas, she said that they hadn't planned the whole thing. "Yeah, we were on the same table and we already know each other. So he was like 'Hey, you wanna go together?' And I was like yeah, OK, let's go together. It ended up working out," she had said.
Speaking about how he met Priyanka, the singer shared, "We met through a mutual friend who she did 'Quantico' with, this guy Graham and we met up like in New York the first time and the same day I think we found out that we are both going to the MET gala with Ralph Lauren. And as strange as it sounds but we couldn't have planned it. We just had a great time. She's a lovely person and I'm dying now to go to India."
Do you think that Priyanka and Nick are dating? Let us know in the comments below.