Malala Yousafzai, the youngest Nobel Prize laureate from Pakistan, is usually seen in salwar kameez or purdah. But a recent photo that surfaced online claimed to be of the 20-year-old walking through a street in London, irking many people.
In the photo that has gone viral on the internet, the girl is seen wearing a denim, jacket and heeled boots while her head is covered with a scarf.
Now, the army of online moral police are back and started criticising her for adopting western attires despite being a Muslim from Pakistan. If that was not enough, some went on to question why she was not being accompanied by her father.
Read: Malala secures place in Oxford : Here are her 10 most inspiring quotes
"I was thinking of preaching someone about keeping our culture of clothes alive when living abroad, and giving them example of Malala but I think, I can't do that now," said a netizen.
The photo was initially shared on the Facebook page 'Siasat.pk' with the caption 'Malala Yousafzai in UK'. Many netizens have also commented that she very much resembles porn star Mia Khalifa. "When I saw first i thought that its mia khalifa," commented a social media user.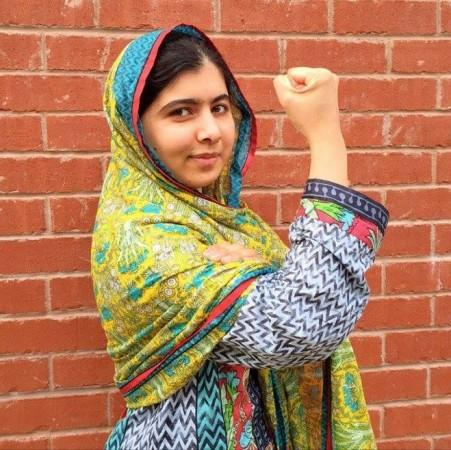 Meanwhile, a section of netizens have requested others not to make some comments.
"Proud of her. really gud to see she is wearing duppatta even in london unlike many who dont even in pakistan [sic]," said a social media user.
"Leave her alone... She is the only Pakistani to address the Canadian Parliament and represent her faith.... More than you losers out there... Who are mere keyboard warriors.... Leave her alone [sic]," commented another.
Read more: When Priyanka Chopra met Malala Yousafzai
However, there is no official confirmation if the woman pictured in the viral photo is Malala itself. Nevertheless, popular columnist Mehr Tarar tweeted: "Finally, a picture of @Malala where she is just being a normal young woman. It's quite remarkable how her head is always covered [sic]."
It was only last week Malala started to study Philosophy, Politics and Economics (PPE) at the Oxford University. "5 years ago, I was shot in an attempt to stop me from speaking out for girls' education. Today, I attend my first lectures at Oxford [sic]," she had tweeted on October 9.
Here is the viral photo said to be that of Malala:
-